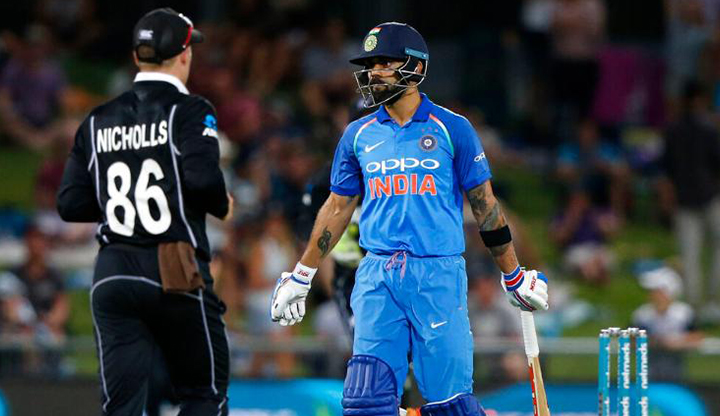 The ICC Men's T20 World Cup, which began on the 17th of Oct, saw India play its first game against Pakistan on the 24th and the match ended up being a huge disappointment. Despite coming in with a world-class squad, India had no answers against Pakistan's fast bowlers nor did their bowlers have anything against the opening duo of Mohammad Rizwan and Babar Azam.
Pakistan has finally ended the famous jinx of not being able to beat India in all international matches. However, the tournament will go on and India are coming up against the Kiwis on the 31st of Oct.
Super 12 – T20 28 of 45
The group stage game between India and New Zealand is set to be an action-packed one, like all other cricket games involving a country like India. While India were clear favourites to win the tournament and still are, the Kiwis cannot be undermined as the Kane Williamson led squad is also backed with quality talent and depth that can attack India and reach higher totals imposed by them.
However, it is a game and there can only be one winner. While we cannot predict the same, we can preview specific details that can give you an idea of how everything can go down. 
Date and Venue
The 28th game of the ICC Men's T20 World Cup 2021 between India and New Zealand will take place on the 31st of Oct at the Dubai International Stadium.
India Vs New Zealand: Team Analysis
1. The Importance of a strong opening partnership
A strong opening partnership is quite important in building momentum and getting on with all that the game can offer. With the T20 format being unpredictable, one needs to bring some form of stability with a good partnership between the opening batsmen. While both New Zealand and India have some of the best cricketers to fill in as the opening duo, one will have to wait and watch to see who clicks and who doesn't.
2. Winning the toss
Teams that win the toss have always had a clear advantage, although, there are chances for things to go around. Winning the toss helps a captain take advantage of the pitch and choose the right option that is most suitable at the moment. With the dew factor being one of worry, teams will have to face these situations and come up with their best game of cricket. 
If any of the teams fail to do so, the opposition could immediately step in and steal the game.
3. Who has a better-balanced squad?
India and its talent-rich squad are not short of anything. The players are packed with experience and the sheer will to go on and win the game. However, that is not what we got to see when they were up against Pakistan. The balanced squad, which is being held as clear favourites to win the tournament, was missing in action against Pakistan. If New Zealand is also able to cause similar damage, then things could go wrong for a team like India. 
The New Zealand squad, on the other hand, is also filled with depth and strength in all departments with the likes of Kane Williamson, Glenn Phillips, Lockie Ferguson, Trent Boult and so on headlining the team. They are always known to come with their A-game at International events and could very well put on a great fight against India. But if the Men in Blue can gain some momentum, then they will be back in the game.
With all these aspects turning out to be exciting, your mind will be drifting off to one side and might even be considering betting on this game. So if you want to place bets BritainBet needs to be your go-to option. 
Pitch Report
The Dubai International Cricket Stadium has always seen teams that bat first to go on and win the game. It has been a common stat and the venue is also not known for offering high-scoring matches. With many batters finding the pitch to be a two-paced surface where shots are hard to find, being able to get boundaries and get the score running will always be of great help.
By maximizing the first six overs, the team that bats first can bring in some form of advantage and take things forward while experts have not ruled out teams that choose to bowl. With all these aspects coming into the mix, New Zealand Vs India can surely be an entertaining and action-packed affair.
India Vs New Zealand: Head to Head Record in ICC T20 World Cup
India has failed to find success against New Zealand in the ICC T20 World Cup and also several other T20Is. It has been ruled over by New Zealand and if Virat Kohli's Men can find success against them on Sunday, it would be a record of its own. Apart from losing twice to New Zealand in the T20 World Cup, India has also gone to witness a success rate of 56.25 placed against them by the Kiwis, which is the best for any nation who have faced India in the T20 format.
| | | |
| --- | --- | --- |
| Teams | India | New Zealand |
| Games Won | 0 | 2 |
| Games Lost | 2 | 0 |
| Highest Score | 180 | 190 |
| Lowest Score | 79 | 126 |