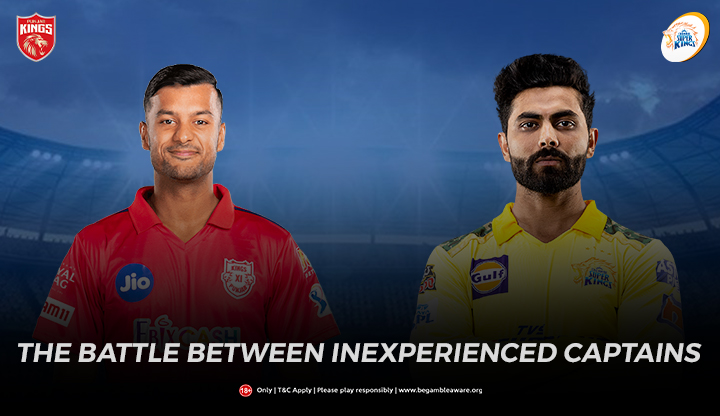 The talk around the dressing room in the Chennai Super Kings (CSK) camp might be a little different. Following the appointment of a new captain, CSK have lost two of the first two games that they have played. On the other hand, Punjab Kings (PBKS) look composed and set for games that come their way.
And if there's one thing in common between these two, it has to be the fact that both of them don't boast the kind of experience that a title-winning captain has in the IPL. However, younger captains have always come in and stole the show, which calls for a battle like no other. So read on further to get an idea of how this game will pan out to be.
T20 11 of 70
Despite only being 10 games old, the IPL 2022 has already shown that it has everything to keep you going till the end of the season. And a game featuring the likes of Dhoni, Jadeja, Gaikwad, Dhawan, Mayank Agarwal and more is something that adds to the charm of the sport.
Whether or not Chennai will be able to get back to winning ways is yet to be seen, although they have all the players that one would require to be a title-winning team. However, for this game, they will be facing a reluctant Punjab, who have shown that they have a balanced squad, capable of taking important wickets and capable of scoring runs.
When and where is this game going to be held?
CSK will be taking on PBKS at the Brabourne Stadium on the 3rd of April, 2022.
Jadeja and the shoes that he has to fill
It's never easy to replace a captain that was always referred to as one of the best in the world. Dhoni, from the moment he took over as captain, has displayed a sense of character that Indian cricket or even world cricket has not seen before. His ability to be calm and composed during crucial matches was always appreciated and the fact that he continued to bring in trophies, shows how much he knew about the game.
So being tasked to fill these shoes is no easy feat. The pressure on Jadeja's shoulder is immense and can always backfire if things don't go accordingly. However, that does not mean it is beyond him to win games and set up a team capable of winning the title. In previous games, we are getting to see a squad slowly improving, although the IPL won't be providing anyone with the luxury of time.
On the other hand, we are getting to see a different Punjab that seems to get their strategy straight and have a perfect plan for execution. Under Mayank Agarwal, the squad seems to be getting composure and all the required firepower to go the distance. They have the perfect blend of batters, all-rounders and bowlers capable of disrupting the opponent's style of play.
However, if CSK get off to a good opening partnership and also have all-rounders pitching in to take the score forward, they could put up a good total despite the bowling threat that Punjab poses. But defending the total is another task that they have to accomplish and they don't seem to be getting the job done.
Punjab, on the other hand, could go the distance if their opening pair fire up a total and take the team forward. In form players like Agarwal, Dhawan and Sharukh Khan will be heavily relied upon. However, their bowling unit needs to improve and it's about time that they do.
Players to watch out for
There's no stopping Robin Uthappa, as the right-handed batsman has gotten off to a good start to begin the 2022 edition of IPL. After scoring 28 in the opening game, Uthappa followed it up with a half-century in the second game, although both of these games ended up as losses for him.
Dhawan has always been a prized asset as his consistency seems to be working to the fullest. The left-handed batsman continues to be the iconic IPL player that he has always been and changing franchises has not changed his high-scoring attributes.
Let's keep aside all talk about this IPL being the last of the great MS Dhoni. Instead, let's focus on his playing ability as he is churning out classic performances. A half-century in his first game, followed up by a strike rate of 266 in his second where he scored 16 from 6 balls tells you a lot about him playing with purpose.
There are a lot of wickets out there that Chahar is bound to take. Despite taking only one wicket in his first game, Chahar showed up with an economy of 5.50. So Chahar is certainly someone to look forward to as he takes on the batsmen from Chennai.
CSK vs PBKS: Head-to-Head
The Indian Premier League has given us 25 games between Chennai and Punjab. Chennai have dominated the rivalry, although Punjab aren't far behind.
| | | |
| --- | --- | --- |
| Teams | CSK | PBKS |
| Total Wins | 15 | 10 |
| Highest Score | 240 | 231 |
| Lowest Score | 107 | 92 |
As you can see Chennai have a comfortable five-game lead which might be somewhat of a confidence booster. Although with squads being heavily shuffled, these stats might not always come to one's rescue. They do highlight the history and how both these teams have evolved over the years.