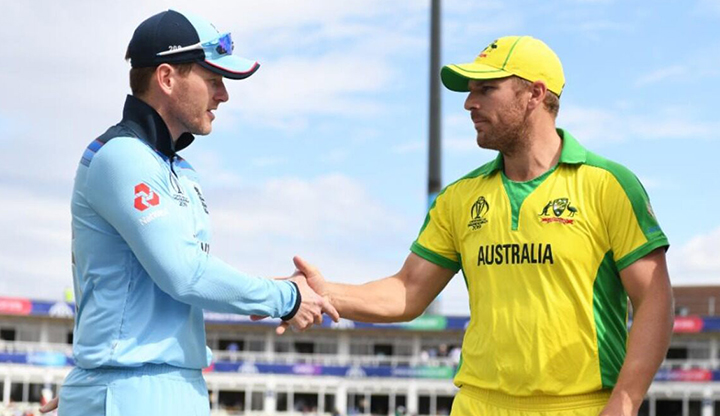 The ICC Men's T20 World Cup 2021 has already gotten off to a great start. Teams are picking momentum and a few are losing the same as the tournament progresses. However, as always, one cannot predict the T20 format since anything could happen. And if that form of unpredictability had to be taken into consideration then the best example for the same would be a game between England and Australia. 
England and Australia, apart from being two of the biggest teams in cricket history, have played their part in producing some exceptional games that are too good to be forgotten. So how will things progress when these giants meet again on the 30th of Oct, 2021? Well, let's head into a detailed preview and look for some answers. 
Super 12 – T20 26 of 45
One of the main highlights of a game between England and Australia is the different individual battles and strategies that come into play. While England boasts a stary lineup of Eoin Morgan, Jonny Bairstow, Jos Bettler and so on, Australia is not far behind with the likes of Glenn Maxwell, Pat Cummins, Aaron Finch and co making headlines. Thanks to this super lineup of top-class cricketers, you can expect a game like no other. 
Moreover, the T20 format has always demanded some form of entertainment, making it ideal to pitch two big teams and watch their biggest stars battle it out for glory. But the result can only be one-sided and we will have to wait and watch how things turn out to be.
Date and Venue
The 26th game of the ICC Men's T20 World Cup between England and Australia will take place on the 30th of Oct at the Dubai International Stadium.
England Vs New Zealand: Team Analysis
1. Superior Form
When two of the biggest teams face off, the most important aspect or feature to look out for will be the in-form players and the in-form team, in general. Even if you expect your favourite team to win, they cannot do so without putting up a good partnership, without taking wickets and to a small extent, without winning the toss. It all depends on their manner of approach to the game and how well-balanced they are in taking things forward. 
As a result, a player's form comes into play and you would have to wait and watch whether they are as good as the last game. With a huge share of both the squads playing cricket non-stop and even on the Dubai pitch, some form of experience and knowledge will be brought into play. 
2. Eoin Morgan Vs Aaron Finch 
A captain's job in cricket is not easy as they have decisions to make and thus, big shoes to fill. Due to that, a big game, which brings in pressure, will move to see a key battle between Eoin Morgan and Aaron Finch. Both the captains are experienced in the T20 format and are known to have found success when it matters the most. Morgan, who is quite untouchable in the position of being the England Captain, has previously seen his tricks work against Finch. 
He is the most experienced T20 campaigner in the world and is also the most-capped Englishman in ODIs. On the other hand, Finch has also seen his magic work against Morgan on a couple of occasions and has the calibre to take him on. While Morgan's recent form might get some worried, his ability to lead a team keeps on getting better and better. 
3. The All-Rounder Fest
When it comes to middle-order batting or wickets in the initial part of the innings, captains are known to rely on their all-rounders. And with England and Australia, we have two good all-rounders who are in prime form. Moeen Ali and Glenn Maxwell. Two cricketers who are scoring runs and taking wickets. Both these players will be vital to the team and can come in at the right time to cause danger or take the game away from the opponent's hands.
If they power up and get things going, we can expect a classic game of cricket. So if you are into the same or want to consider cricket betting, you can rely on BritainBet.
Pitch Report
The pitch at the Dubai International Stadium has seen all kinds of matches and in the recent weeks has witnessed both England and Australia stepping foot in it. While it is not exactly a high-scoring pitch, you can expect things to always get better based on the conditions that are bound to set in. According to recent stats, the conditions have always proven to be better for the team that wins the toss and opts to bowl first.
This is mainly due to the fact that seamers get some extra bounce in the initial stages and the boundaries are large enough to assist the spinners in benefiting from the same. With all these aspects coming into play, we will have to wait and see as to which captain wins the toss.
England Vs Australia: Head-to-Head Record in ICC T20 World Cup
When it comes to the head-to-head record of both these teams in the ICC T20 World Cup, we are left with a balanced record that seems to tell you how important this game is going to be. Out of their two meetings, both teams have won once and the latest outing on Sunday will add another point to the team that wins. So go ahead and look at the following table to understand the head-to-head record of England and Australia in the T20 World Cup. 
| | | |
| --- | --- | --- |
| Teams | Australia | England |
| Wins | 1 | 1 |
| Loses | 1 | 1 |
| Highest Score | 147 | 148 |
| Lowest Score | 136 | 135 |