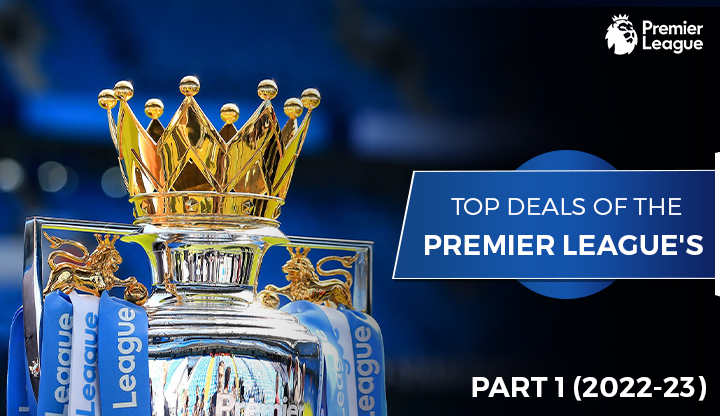 The transfer window can be seen in different ways. If your club is actively investing in new talent, the window will be seen as a bright one and if your club is busy trying to get deals done without seeing any success, the window will be one that you try to forget.
It is the reality of the game and there's no doubt about the fact that finances play a huge role in the sport. So without further ado, let's take a look at some of the top deals that have been completed so far in the summer transfer window of 2022. 
Complete List Of Premier League Top Deals
Erling Haaland (Borussia Dortmund – Manchester City)
£51.3m
The Erling Haaland deal might not be the biggest in monetary terms but it certainly is in every other sense of the word. Touted as one of the biggest talents in the world, Haaland has scored 85 goals for Dortmund in 88 appearances.
With pace and physicality, Haaland is known to be a nightmare for defenders, which is why a link-up between Haaland and Guardiola is something that the rest of the clubs should fear. 
Darwin Nunez (Benfica-Liverpool)
£86m
With the blue half of Manchester bringing in Haaland, Liverpool decided to bring in a striker of their own in the likes of Darwin Nunez. With club legend Sadio Mane gone, the Reds required a replacement and couldn't have asked for anyone better.
Nunez is quick, and decisive and is known to be a smart finisher who the Reds will cherish. Whether or not he will survive in the Premier League is a different question altogether. But with Klopp known to improve young talent, one need not have doubts about what Nunez can achieve in the Premier League. 
Gabriel Jesus (Manchester City – Arsenal)
£45m
North London outfit Arsenal haven't been quiet this summer. They have had players coming in and going out with business running smoothly. And one of their top deals is that of former City striker Gabriel Jesus.
The Brazilian forward was expected to move from City following the arrival of Haaland and has thus chosen to link up with Arsenal. A move that has cost around £45m has taken the forward from Manchester to Arsenal. 
Kalvin Phillips (Leeds United – Manchester City)
£.45m – £.50m
City are increasingly becoming the club that takes away players from their boyhood clubs. While the previous window saw Jack Grealish leave Aston Villa, the current window will be Phillips leaving Leeds.
England's Player of the Year for 2020 has been a box-to-box midfielder and has seemingly improved under Marcelo Bielsa. While his role at City will be to replace Fernandinho, he is expected to get a few starts because that is what you need if you want to play in Qatar.
The Yorkshire Pirlo might even see fewer opportunities since Rodri is known to excel in his position. 
Fabio Vieira (Porto – Arsenal)
£31.5m
Apart from Jesus, Arsenal have also gone ahead and brought in Portuguese attacking midfielder Fabio Vieira. In a deal leading to £.31.5m, the young sensation is expected to make it into Arteta's plans, which should be to reach the Champions League.
Considering Arsenal has gone through a period of improvement and has successfully brought back European football to the Emirates, it will be interesting to see if they improve further and whether they have what it takes to also bring in Champions League football. 
Philippe Coutinho (Barcelona – Aston Villa)
£.18m
The Coutinho saga was expected to materialise in this summer window and by all means, the deal is done and dusted. While his period in Barcelona won't be talked about, his time in the Premier League will certainly be since his game has only improved under Steven Gerrard.
With a full pre-season, Countinho and all the new signings at Villa are expected to get used to the Steven Gerrard style of football. If they do, we are in for a show every time Villa gets on the field to start playing. 
Brenden Aaronson (RB Salzburg – Leeds United)
£.29.5m
Leeds have not had a quiet transfer window. By taking last season as an example and vowing never to make the same mistakes, the Yorkshire club have gone ahead and made more than three signings. Brendon Aaronson from RB Salzburg, Marsch's former club, can be considered the standout.
As an attacking midfielder, Aaronson could come in for Rodrigo, who hasn't been performing well, ever since he made his move to Leeds. Now with stiff competition, one will have to see how Marsch utilises his resources and whether the club will survive without their famous midfielder.
Diego Carlos (Sevilla – Aston Villa)
£.27.9m
Aston Villa are getting a new centre-back in the form of Diego Carlos. With a £.27.9m deal being agreed between both Sevilla and Villa, Carlos is expected to offer a new style of defence to what Villa have been playing along.
With the club known to be ambitious in the past few seasons, it is clear that they are chasing European football and will want to continue going higher and higher up the table. Whether or not that can be achieved is something we are yet to see because the league is known to get harder with every passing season.
Not only are clubs buying and selling players but some will also look to change their style of play, management, and more in order to bring in a fresh philosophy to what they are used to.
Hence, those were some of the top deals that have been a highlight of the summer transfer window. With more expected to follow, make sure to check out part two of this article because English clubs are still doing business and they want what is best for their club.