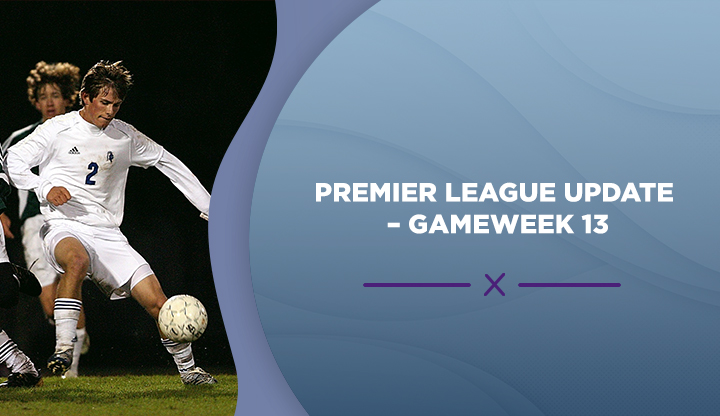 The Premier League has always filled our weekend with the best of footballing action. While the league being called the best in the world is slowing down, there's no slowing down the action. And for all enthusiasts, game week 13 was all that they wanted. It had some crucial games, some entertaining ones and also games that may or may not decide the fate of the manager.
So without further ado, let's take a look at what happened in game week 13 as clubs came together for the sake of 3 points and footballing entertainment.
Klopp takes points from City and gives it to Forest
Nottingham Forest vs Liverpool (1-0)
There was a lot riding on Liverpool when they beat City and went forward to be their former selves. However, all that took place the previous weekend was only for the previous weekend as Klopp lost his magic touch against Forest.
Nottingham Forest, who made 23 signings over the summer, seemed like a team who would head down to the Championship. However, off late, they seem to be getting three points and no one expected them to get it against Liverpool.
The mighty Reds tried everything against Forest but failed to get the ball past Dean Henderson. The former Manchester United keeper delivered a man-of-the-match performance by making as many as 7 crucial saves.
Moreover, Liverpool were made to witness Taiwo Awoniyi score a goal in the 55th minute and by doing so, they were on course to lose all three points. While Klopp made it clear they weren't title challengers, he didn't specify that they would be losing to teams in the bottom of the table.
Regardless, it is a loss and the Reds need to wake up from this. Luckily for them, the next game is at Anfield and they will be welcoming Leeds United. The Yorkshire club who are also in a bad form don't seem like the team that can capture three points like Forest.
Man of the match – Dean Henderson
Dean Henderson showed us all what he is capable of. He had to face a team like Liverpool and did so eloquently. Not only did he keep a clean sheet but he also made 7 saves and over 6 recoveries.
It is a stat that will always define his career as he goes on to help Forest stay in the Premier League.
Casemiro's first but all eyes on Varane
Chelsea vs Manchester United (1-1)
Manchester United are on the rise. This season, they have beaten the likes of Liverpool, Arsenal, Tottenham and Manchester City (in the second half) and drawn against Chelsea. While their initial start to the season was pretty much the same like last season, they recovered and are now back on track.
However, it is too late to get to a title charge but if there were to do so, one won't be surprised if they did so without Ronaldo. Arguably one of the greatest footballers of all time is being reserved to the bench and could be looking for a way out of United.
While he undoubtedly carried them during the previous season, currently he does not seem to be a requirement. On the other hand, Chelsea under Graham Potter is turning out to be a successful experiment.
He seems capable of taking them to the top and he does so with ease. While there was a slight dip in their performance against United, they didn't lose themselves and always had the motivation to keep on delivering.
Thanks to that, we see both United and Chelsea on a good ride of form as they are bound to finish at a good position on the table.
Man of the match – Carlos Henrique Casimiro
The first goal that you score for your club is always going to be special. And Casimiro couldn't have asked for a better game to do so. United required that finishing touch and who better than Casimiro at the moment.
While he was criticised for prioritising money over titles, the Brazilian continues to showcase what he is capable of doing and in doing so, he might help United get to their former glory.
So let's wait and watch how the rebuild under Ten Hag will work out.
Saints go marching on
Southampton vs Arsenal (1-1)
Arsenal seemed like they were going to get all three points when they made the trip to Southampton. The belief got stronger when Xhaka scored a goal in the 11th minute. In all likelihood, it seemed like the perfect scenario to get all three points and push their charge towards the top.
However, not many have classified them as title contenders and the game against Southampton could be taken into consideration. Title contenders rarely settle for a draw and despite the Gunners putting on a good performance, a draw is what they could manage.
By the end of the game, both teams had the same number of shots on target and thus, the 90 minute game ended as a draw. The Saints weren't ready to compromise and it didn't matter who they were playing against.
They managed to come out of the pressure and score a goal in the 65th minute courtesy of Armstrong. That was the highlight of the game as the Gunners were hit with the sudden realisation that they won't be getting all three points.
While a slip in the Premier League is common, it cannot be so for a team like Arsenal. Touted to be the ones in the title race, Arsenal cannot afford to drop points regardless of whoever they are playing.
Man of the match – Granit Xhaka
Granit Xhaka was judged the man of the match. His pass completion rate of 90.3% combined with a goal and key paases, made him the star of the show. As he continues to dominate proceedings, you can only expect more to come from the Brazilian.
He has been in fine form this season as he continues to get the job done for Arsenal. Considering the future, Xhaka could end up being a legend at the club, if his form and contract are renewed in time.
With Arteta and the fans behind him, you can expect more to come from the Brazil international.
Is Jesse Marsch the next to go?
Leeds United vs Fulham (2-3)
Leeds United were expected to be better this season. Better than the team that narrowly avoided relegation. However, it's October and they are already in the relegation zone with their next game against Liverpool.
Marsch, who was touted to be perfect for Leeds, did save them from relegation, but at the moment, he seems lost for ideas. On the other hand, the players don't seem to be scoring goals and that is a huge concern for any club.
While they do have some exciting talent in their ranks, they don't seem to score enough goals or even score goals. Patrick Bamford is still waiting for his 100th career goal and in the process he has also missed a penalty.
Gelhart and Gnonto don't seem to be ready and Rodrigo's form is a miss and hit. If this trend continues, Leeds are going to find life in the league difficult and could yet again be in for a season where they hardly survive in the Premier League.
On the other hand, Fulham have made the most of their season in the Premier League and are currently above Liverpool. They have 18 points in the bank and have won 5 games out of the 11 that they have played.
Under Marco Silva, Fulham seems content to be in the league and if their top goalscorer continues his form, things could be heading in the right direction.
Man of the match – Andreas Hoelgebaum Pereira
Having made two crucial assists and four key passes, Pereira was a man in form. Despite the intimidating atmosphere at Elland Road, Pereira showed his skills and came out of the game like a top player.
His form continues to be on the rise and if it continues, Fulham will start receiving offers for him by the end of the season.
How to stop Haaland?
Manchester City vs Brighton (3-1)
It's about time all Premier League managers, barring Guardiola for obvious reasons, get together and decide on ways to stop Haaland. The Norwegian international seems to be comfortable scoring goals and he is comfortable doing it in every game.
At this stage the only possible way to prevent Haaland from scoring goals is to place him on the bench and why would Guardiola do that. In this game against Brighton, Haaland started the scoring in the 22nd minute and followed it up with a penalty in the 43th minute.
That's two goals in a single game and with adding up, Haaland sits at the top with 17 goals. He is just short of five goals to beat last season's top scorer and if he continues scoring goals in the current predicament, he can move on to be the league's top scorer of all time.
On the hand, Brighton seemed to cut a sorry figure. They were once a team that would at least draw against the big six or even beat them. But now they are searching for form under their new manager and one can understand how much they miss Potter.
While they are not in for a relegation fight, they could end up at the wrong half of the table which is a brutal blow for a club like Brighton considering how they have been in previous seasons.
Man of the match – Erling Haaland
There need not be any guesses for the man of the match award especially in a game featuring Erling Haaland. Having scored two goals and registering the same number of goals on target, who better to give the award to than Haaland?
As he continues his form, other teams could only hope that he spares them because hope is all that we have at the moment.
The Premier League Table
| | | |
| --- | --- | --- |
| Position | Clubs | Points |
| 1 | Arsenal | 28 |
| 2 | Manchester City | 26 |
| 3 | Tottenham Hotspur | 23 |
| 4 | Newcastle United | 21 |
| 5 | Chelsea | 21 |
| 6 | Manchester United | 20 |
| 7 | Fulham | 18 |
| 8 | Liverpool | 16 |
| 9 | Brighton and Hove Albion | 15 |
| 10 | West Ham United | 14 |
| 11 | Brentford | 14 |
| 12 | Everton | 13 |
| 13 | Crystal Palace | 13 |
| 14 | Bournemouth | 13 |
| 15 | Aston Villa | 12 |
| 16 | Southampton | 12 |
| 17 | Leicester City | 11 |
| 18 | Leeds United | 9 |
| 19 | Wolverhampton Wanderers | 9 |
| 20 | Nottingham Forest | 9 |
Newcastle in the top four
If you haven't noticed it already, Newcastle are in the top four. Ever since they received a top financial backing, they have invested the amount in the right players and are seeing results effectively. Apart from beating Tottenham, Newcastle have also drawn against City and came close to beating Liverpool.
Manchester United are on the rise
Ten Hag seems to be cooking something special at Old Trafford because the results are being appreciated by fans. They have already beaten Liverpool, Arsenal, Tottenham and drawn against Chelsea.
While they are still miles away from their former selves, one can always wait and see how the season turns out to be.
Liverpool in a weird position
The only time one could see Liverpool in a wrong position on the table is when the season starts because the clubs will be arranged in alphabetical order. However, today, we are beyond the start of the season and have already seen around 11 games get by.
Despite all of that, Liverpool are at 8th position and are also below Fulham.
Will Leeds fight for relegation again?
Having lost to Fulham at home, Leeds United entered the relegation zone and are currently in the 18th position. They have played a total of 11 games, out of which they have won 2, drawn 3 and lost 6.
Those aren't the type of stats that fans would expect and if a change in form doesn't arrive soon, they might end up like last season.