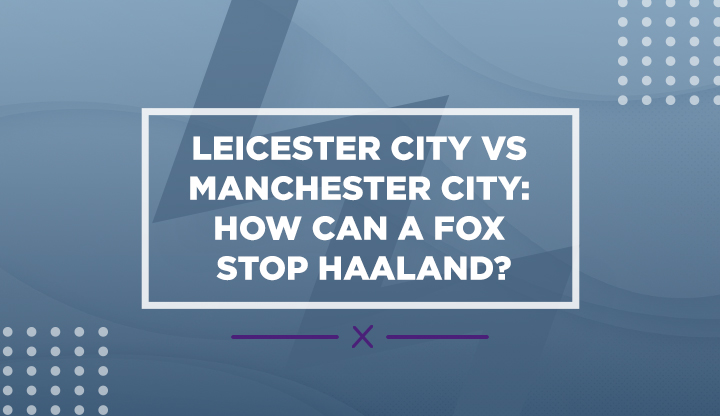 City couldn't have asked for a better time to play Leicester City although Manchester City aren't the type of team who require some help in trying to beat their opponents. Leicester, who have faced a small dump in form, seem to have picked up six points from their previous games against Leeds and Wolves.
While that has taken them out of the relegation zone, one still wonders what they can provide against Manchester City, who as always, are expected to win the title.
Matchday 14 is here!
With the World Cup coming closer and closer, the league is about to complete its run of fixtures till the start of November. And in those fixtures, we have some interesting games that are set to be featured in game week 14 of 38.
Apart from the obvious contender in Leicester City vs Manchester City, we also have Brighton vs Chelsea, Liverpool taking on Leeds United, Arsenal vs Nottingham Forest, Manchester United vs West Ham and more.
All these fixtures are expected to kick start our weekend and provide us with some of the best footballing action. However, for the players and the managers, it's going to be a tough ruh.
Considering that the World Cup is arriving, players will be cautious not to pick up injuries. And managers will want to keep them fit and also expect to get three points from every possible juncture.
So the cycle is going to get interesting and the only way to make it more interesting is to go through a preview and what better than Leicester City vs Manchester City.
When and where is this fixture taking place?
Leicester City will welcome Manchester City as this fixture is set to take place at the King Power Stadium on the 29th of October, 2022.
The Bigger 'City' Arrive at the King Power Stadium
Leicester don't seem to be the team that won the FA cup let alone the Premier League. They have lost a total of 7 games out of the 12 that they have played and there are a number of reasons for the same.
Their lack of transfer activity followed by a dump in form are just a few of the reasons that experts believe are holding back Leicester. While they were once the league's favourite underdogs, they are now closer to the relegation zone than to any hope of winning the league.
Be it Steve Rodgers or the players, the team has a lot of work to do, especially when they are set to welcome Manchester City. Guardiola along with his Billion pound squad aren't leaving any stone unturned in winning titles back to back.
With Haaland contributing with goals, City could be termed unstoppable. And things will get more interesting when he has to face the defence of Leicester, who have already shipped in 24 goals.
It's one of the worst defensive records in the league and if they continue to concede goals in this manner, they will have some real problems to deal with, especially when Haaland comes knocking.
Having already scored 17 goals, Haaland is the least bothered about the fact that we are still in October and have over 25 more games to go. According to stats, if Haaland continues his goal scoring form, he does have the potential to be the leagues top scorer of all time.
But that could take some time, although we don't see City letting him go. Why would they? He can score goals from all angles and win games and thus opens their door towards the Champions League, something which City have never won.
But first things first. So Haaland will have his sights on Leicester and will look to make those crucial runs. With defenders not being able to defend against the Norwegian, Haaland will be on his way to get what he wants.
Head to head – Leicester City vs Manchester City
There have been a total of 22 games between these clubs and only 2 have ended as draws. While the one with the lead is Manchester City, Leicester aren't far behind. However, it's quite rare for them to seek a win out of this one, especially with their current form being unpredictable and at times, bad.
| | | |
| --- | --- | --- |
| Clubs | Leicester City | Manchester City |
| Total Wins | 7 | 13 |
| Home Wins | 2 | 6 |
| Away Wins | 5 | 7 |
| Current League Position | 17 | 2 |
With 13 wins, Manchester City lead the way forward. However, Leicester's 7 wins is no easy feat because they once were a team that could frighten the big six. Moreover, there was also a time when people used to include them in the category of the big six by removing Arsenal.
Since time flies, that inclusion and omission does not seem to be working for all the right reasons. The Foxes aren't close to their former selves and if they manage to get something out of this game, they can be hailed as footballing greats.
Leicester City at home
| | | | | | | |
| --- | --- | --- | --- | --- | --- | --- |
| Games | Leicester City vs Brentford | Leicester City vs Southampton | Leicester City vs Manchester United | Leicester City vs Nottingham Forest | Leicester City vs Crystal Palace | Leicester City vs Leeds United |
| Results | 2-2 | 1-2 | 0-1 | 4-0 | 0-0 | 2-0 |
Leicester City haven't been the best at home. They have lost to the likes of Manchester United and Southampton and won against Leeds and Forest. However, if we were to compare their away form to this, one will always say that their home games have been the better ones.
The Foxes with the home support, can turn on their bands and look to march on. However, how much of that will come on display against a team like Manchester City is yet to be seen.
Manchester City Away from Home
| | | | | | |
| --- | --- | --- | --- | --- | --- |
| Games | West Ham United vs Manchester City | Newcastle United vs Manchester City | Aston Villa vs Manchester City | Wolves vs Manchester City | Liverpool vs Manchester City |
| Results | 0-2 | 3-3 | 1-1 | 0-3 | 1-0 |
City have been rock solid this season and have only dropped points on rare occasions. Thanks to that, their current form or their form away from home is threatening and nobody wants to welcome them.
They have what it takes to rule the roast and will surely try their best to come out on top. So Leicester needs to be ready for everything.
Results from the previous season
Leicester were much better than their current selves during the previous season. They didn't concede goals at this rate and also provided us with some memorable games. However, their fixtures against City ended up what one would expect, a clean win for the opponent.
Leicester City vs Manchester City (0-1)
11th September 2021
The first meeting between these teams during the previous season was indeed exciting. While Manchester City were expected to win, they didn't have it easy. The Foxes, at times, looked like they were either going to win the game or at least, equalise after Manchester City took the lead.
However, with Bernardo Silva being judged the man of the match for his goal in the 62th minute, Manchester City went on to win the game.
Manchester City vs Leicester City (6-3)
26th December 2021
If every game was a 9 goal thriller, we would be glued to our TV screens for the rest of our lives. However, these games are rare and special and City did it without their goal scoring monster called Haaland.
The likes of De Bruyne, Mahrez, Sterling and more entered the fray as they kept on scoring as Leicester looked puzzled for ideas.