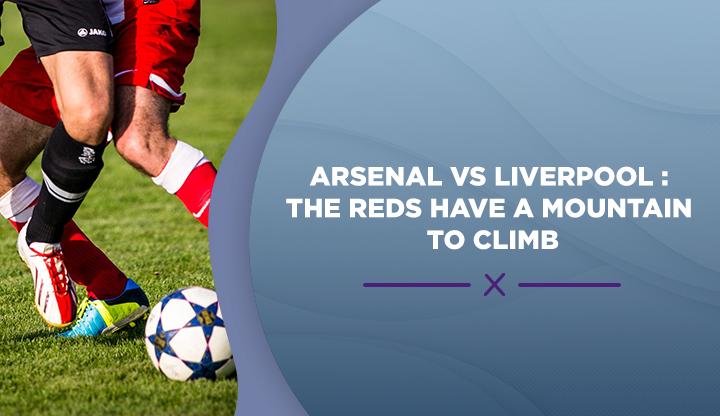 There's nothing more unpredictable than the Premier League. As a league with all the noise and action, it leaves you confused about fixtures and guessing about what's going to happen. While that happens in every other league, there could be a few exceptions for the Premier League.
It has players of the right quality, managers with the right vision and teams with history unlike no other. It is this aspect that makes the league an exciting watch and thus makes fans wait for some of the biggest games that it has to offer. So we are here to talk about one such game which is touted to be bigger than ever.
The 10th game week
Every game week has something or the other to offer. And having seen as many as 8 games, one surely knows that there is more to come. And to add to that buzz, we have some crucial matches taking place in-game week 10 of the Premier League.
Since the league cannot wait and has games till the World Cup, you can expect to see some crucial matches and if we are taking this week into consideration, it goes like Manchester City vs Southampton, Chelsea vs Wolves, Brighton vs Tottenham, Crystal Palace vs Leeds United, Arsenal vs Liverpool and more.
As you can see there's plenty of action to look forward to. So call your friends, grab some popcorn and sit tight as the Premier League takes shape to control your weekend.
When and where is this fixture taking place?
Arsenal vs Liverpool are set to battle it out at the Emirates on the 9th of October 2022.
New age Gunners & confused Reds
Both Arsenal and Liverpool have been having two different seasons. While the Gunners seem to have taken off into the top, the Reds seem like a different team from what they were the previous season.
To sum it up, the Gunners are on top of the table and have Gabriel Jesus leading the line and the Reds are at the 9th position and are missing Mane and are also seeing a scoreless Salah.
While they did win their last Champions League game, they haven't performed well in the Premier League and are desperate to get a flying start. If they manage to get some momentum going, they could turn things around against Arsenal, although that seems like a big task.
The Gunners are finding spaces against every team and Liverpool are providing the same to every team. So the combination seems to be a perfect one and the focus will be on Liverpool's defence.
The likes of Van Dijk and Trent will once again be under the spotlight and if they don't happen to perform well, the media will do its job. Experts will share their highlights on how Liverpool are doing and will ask the bigger question, i.e. how long can Jurgen Klopp survive at Liverpool.
If these questions and more need to be eliminated, the Reds have to perform. While they do have the attacking flair and potential to get all three points, their opponent seems to be high on confidence and will welcome them on the backdrop of beating them.
There has never been an Arsenal vs Liverpool game where the Gunners were expected to win, not at least in recent times. So the pressure on the Reds is real and there can hardly be any solace in continuing to make the same old mistakes.
However, Liverpool do have some form at the end of the tunnel because they have players returning from injury. Their midfield, which at the start of the season was filled by 36-year old Milner and the inexperienced Harvey Elliott among others, could now be backed with the experienced folk.
That can be a real threat and Liverpool could once again be the kind of threat that they were. But the form of Nunez could be a concern mainly because of the pressure of playing in the Premier League and at a club like Liverpool.
Moreover, the league waits for none and thus the luxury of time is not available at the moment and could never be made available. So Klopp needs to find some rhythm again and power up the Reds like the team they once were.
On the other hand, Arteta seems to have got everything right with Arsenal because the squad seems to be powered by some young blood. They have all the right players who can easily be considered the future of the club. Thanks to some right investments, Arsenal are flying again and have everything in them to beat a team like Liverpool.
Arsenal at home
Arsenal have been in exceptional form when it comes to playing at home and away. However, at the Emirates, the Gunners seem to be unstoppable. They are yet to lose a game at home and have faced teams like Leicester, Tottenham, Aston Villa and Fulham.
With the faithful at the Emirates getting behind them, the Gunners move on to create early chances and ensure that the opponent doesn't get any of it. However, this time around, they are facing Liverpool, who even during a bad day, can create chances out of thin air.
So the task at hand is going to be a difficult one and terming it easy is the creation of someone who does not watch football.
| | | | | |
| --- | --- | --- | --- | --- |
| Games | Arsenal vs Leicester City | Arsenal vs Fulham | Arsenal vs Aston Villa | Arsenal vs Tottenham |
| Results | 4-2 | 2-1 | 2-1 | 3-1 |
Liverpool away from home
Liverpool, on the other hand, haven't been great playing away from Anfield. They are yet to win a single away game despite showing some signs that they will. Games against Fulham, Manchester United and Everton were hard to conquer with the opponent understanding what Liverpool will bring to the table.
Thanks to that, this assignment at the Emirates is not going to be an easy one. They have to bring everything that they have and give it all. If the Reds manage to make it out, then Arsenal have to prepare their map on how to face the big teams in the Premier League.
| | | | |
| --- | --- | --- | --- |
| Games | Fulham vs Liverpool | Manchester United vs Liverpool | Everton vs Liverpool |
| Results | 2-2 | 2-1 | 0-0 |
Arsenal vs Liverpool: Head-to-Head
Arsenal and Liverpool have been an iconic duo that has given us a rivalry unlike any other. It is hard to find such teams with so much history who will do anything to get those three points. Right from the days of Arsene Wenger, this rivalry has been all over the place.
And to sum it up, we have seen 60 games between this pair and thanks to football, we are sure to see more. Out of the 60 games, 19 have been draws and the one with the leading figure is none other than Liverpool.
| | | |
| --- | --- | --- |
| Clubs | Arsenal | Liverpool |
| Total Wins | 16 | 25 |
| Home Wins | 10 | 16 |
| Away Wins | 6 | 9 |