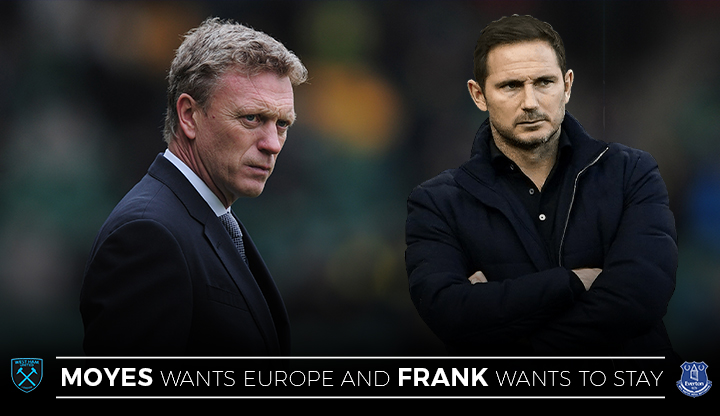 A run of two weeks without Premier League football is finally coming to an end and every club is looking to get back to winning ways. We have already seen top fixtures like Liverpool vs Watford, Burnley vs Manchester City and now it is time to see West Ham vs Everton.
As we all know, the mood around the two clubs is quite different as David Moyes wants to end the season with a trophy and be able to come back next season at the highest level whereas Frank Lampard just wants to stay in the Premier League. While there are more fixtures to come, this one, in particular, is important for both teams.
Moving into matchday 31 of 38
As we near the business end of the season, every matchday and every fixture will talk about how things will be shaped for the rest of the season and also for the next season. So if West Ham manages to get three points, they could possibly be in line for European competitions and if Everton get three points, they could further take themselves away from the dropzone.
Hence, this is going to be one big fixture and if you wish to have your say on things, consider doing so with the services offered by BritainBet.
Where is this fixture taking place?
West Ham and Everton will lock horns on the 3rd of April at the London Stadium.
Will David take another three points?
By now it is obvious that Everton are in trouble and need all the three points that they could get. However, their remaining run of fixtures, apart from West Ham, include the likes of Manchester United, Liverpool, Chelsea, Arsenal and more. Winning three points against these teams, based on their current form, may not be possible unless Frank Lampard is able to oversee a turnaround.
While they did get lucky against Newcastle, they cannot expect to do the same with West Ham, who will drill at every opportunity bestowed upon them. David Moyes's style of play has always benefitted the Hammers, who along with Michail Antonio can shred apart Everton's defence.
While the Hammers did have a bad day against Spurs before the international break, experts would suggest they have what it takes to get past Everton. But if the break has been put to good use and if Lampard can guide a relegation-threatened club back to safety, then either a win or a draw will be helpful for the Toffees.
Due to the unpredictable nature of the league, it is hard to tell you who will win three points, although West Ham, at least on paper, looks the part to seal the win. The Hammers, who were in contention for the top four, can now settle for at least the Europa League, as Spurs, Gunners and the Red Devils have joined the race.
On the bottom end of the table, we have Leeds, Everton, Watford, Burnley and Norwich City who are all looking to stay in the Premier League. Despite Watford, Burnley and Norwich being cited as the clubs to get relegated, Everton are still in trouble and will need wins to keep them in what is called the best league in the world.
West Ham vs Everton: Head-to-Head
Having played 51 games in the Premier League, both West Ham and Everton are well-established clubs and important ones in the whole of English football. However, history has no prominence in the 90-minute action that we are about to see. The only thing that matters is who wins the game. While people involved with football betting will look to make predictions, the real deal begins when we see how it unfolds. 
| | | |
| --- | --- | --- |
| Teams | West Ham | Everton |
| Total Wins | 11 | 27 |
| Home | 5 | 15 |
| Away | 6 | 12 |
Out of the 51 games that these clubs have played, 13 have ended as draws and the majority of the games have belonged to Everton. However, as we have mentioned before, only what has happened in this season will matter moving forward.
The Reverse Fixture
The Toffees weren't exactly the winning team that they wanted to be under Rafael Benitez and that was evident when they faced West Ham back in October of 2021.
Everton vs West Ham (0-1)
A goal from Angelo Ogbonna at the 74th minute was all that it took to get past Everton, who had 4 shots on target when compared to Everton's 2.
Results from the Previous Season 
West Ham vs Everton (0-1)
Everton vs West Ham (0-1)
Both West Ham and Everton in the previous season couldn't score more than a single goal against each other, although a single goal was all that it took to win the game for either of these teams. With Everton being a whole different gravy under Carlo Ancelotti, the scenario was different and the season was completely different.