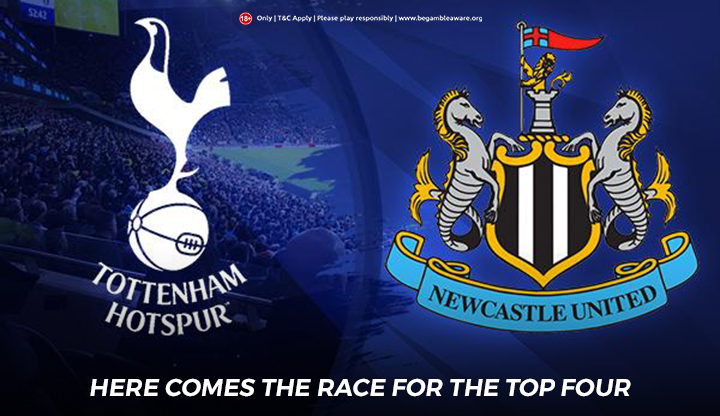 Did you miss the Premier League? Wait, that is a silly question because who doesn't miss the Premier League, especially when there is an international break. However, let's forget the past because the breaks are done and we are now off to continuous footballing action till the end of the season!
The Premier League, the Champions League and every other major league in football have fixtures to offer as we come close to the business end of the season. So grab your jerseys, some popcorn and sit tight because the Premier League is taking off.
Let's Celebrate Matchday 31 of 38
Matchday 31 of 38 is surely an exciting gameweek as it offers top fixtures. From Liverpool vs Watford to Chelsea vs Brentford, matchday 31 gives you every reason to smile, to laugh and if your team loses, to cry.
But for now, let's focus on the fixture that is mentioned in the title. Tottenham vs Newcastle. Two clubs looking to venture into a new direction with Tottenham doing so with a new manager and Newcastle doing so with a lot of resources and we mean, a lot!.
One does not have to go into detail about how rich Newcastle are because it is all an old story now. Having spent millions in the January transfer window, Newcastle are ready and have already shown major signs of improvement.
But can they stop a team driven by the likes of Harry Kane, Son Heung Min, Dejan Kulusevski and the tactical brain of Antonio Conte?
When and where is this fixture kicking off?
Tottenham will face Newcastle on the 3rd of April at the Tottenham Hotspur Stadium.
Three points for Tottenham or disappointment at home?
If there's one thing in common between Tottenham and Newcastle, it has to be the fact that both these clubs have seen their season hit a major turnaround. Soon after hiring Conte, Tottenham seems to be a whole different team, despite including the occasional mistakes that classify them to be Spurs.
They are good on the counterattack and have certainly improved defensively, which is a fair point to add considering how Conte is fixated on conceding fewer goals. On the other hand, Eddie Howe has also done a good job with Newcastle as he took away fears of relegation and provided some kind of satisfaction for fans.
All their January signings seem to be valuable additions and have certainly improved the team. St.James Park has probably never been this happy in recent times and if all things go according to plan, we may see more signings in the summer.
But the question, for now, would be whether Newcastle have enough to take on Tottenham? And unfortunately, there's no straight answer because there is never one for football. If there was, football betting would be easy. So let's focus on finding multiple answers.
On paper, everyone would claim that Tottenham can take all three points and for all the right reasons, it seems so. They have good options in attack, their midfield seems to have improved ever since Dejan Kulusevski joined their ranks and their defence has also been strengthened.
However, Spurs have made mistakes and will probably continue making them, especially when it comes to conceding. And if that happens again, we might see another Conte tell-it-all interview.
On the other hand, a draw or a win for Newcastle are also on the cards, although a draw seems more realistic than the other. With their style of play, Newcastle does seem like a team that can take all their opportunities and if they score, Spurs are going to have a hard time.
With good attacking options, Newcastle could bring in their A-game, although it will be difficult when you are facing a team driven by Antonio Conte.
Tottenham vs Newcastle: Head-to-Head
The head-to-head stats between these clubs is certainly interesting. While Spurs lead the line like how you would have assumed, you must also realise that Newcastle aren't far behind. Both these clubs have played a total of 53 games, drawing 8 and bringing out results that are quite close to each other.
| | | |
| --- | --- | --- |
| Teams | Tottenham | Newcastle |
| Total Wins | 23 | 22 |
| Home | 14 | 12 |
| Away | 9 | 10 |
As you can see these head-to-head stats talk about the historic rivalry between these clubs and how they have fared against each other. Thanks to all that, it certainly calls out for an exciting game and if you believe that you want to be involved, consider using the services of BritainBet.
The Reverse Fixture
Newcastle vs Tottenham (2-3)
17th October 2021
The reverse fixture saw an interesting clash and it is the only win keeping Spurs ahead in the head-to-head stats. Played out in front of a passionate St.James Park, Newcastle went in and did not give up until the last moment. However, it was Spurs who got the better of them.
Results from the Previous Season
Newcastle vs Tottenham (2-2)
4th April 2021 
Two goals from Harry Kane and a goal each from Joelinton and Joseph Willock was all that was needed to put on a show for everyone who was smart enough to see this exciting game.
The 85th-minute equaliser was all that Newcastle needed as they cancelled out a winner for Spurs and went on to celebrate like there is no tomorrow.
Tottenham vs Newcastle (1-1)
27th September 2020
Another game between two historic clubs and another draw. While Spurs took the lead through Lucas Moura in the 25th minute, Newcastle got a penalty during the 97th minute of extra time. So they went on to cancel out another victory for Spurs.