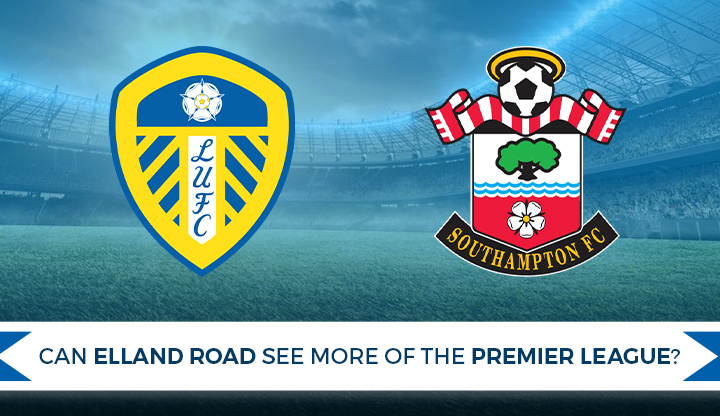 Leeds United clocked in two back-to-back victories against Norwich City and Wolves, where the latter could probably be known as one of the best games of the season. On the other hand, we have Southampton, who after getting off to a rousing start, have suffered three consecutive defeats.
So who will win when these two come against each? Since football is unpredictable, it takes more than a 'yes' or a 'no' to help you understand what can happen and what will happen. Hence, let's do a detailed preview and explore more of this fixture.
Let's dig into Matchday 31 of 38
Matchday 31 includes some big fixtures with Liverpool vs Watford, Manchester United vs Leicester City, Burnley vs Manchester City and more. Every single fixture seems to be an important one, considering the fact that we are nearing the business end of the Premier League season.
So if your club is facing the two-horse title race, you would be tense because you want to win the title and if your club is in the race for the top four or European qualification, you would be tensed again because you can only dream of European football. On the other hand, you would be tensed, scared and worried if your club could lose its status as a Premier League club.
While Leeds are securing safety, they are yet to be out of the woods and clashes like these at home could decide their current season.
When and where is this fixture taking place?
Leeds will lock horns with Southampton on the 2nd of April at Elland Road.
Can the Whites Secure a Third Win?
Leeds United have had to go through a rough season. Their attacking brand of football, which is widely termed as entertaining, caught up with the players as injuries began to test their thin squad. A few fixtures later, we could see pundits call out former manager and club legend Marcelo Bielsa for not changing tactics and playing how he knows best.
Following a run of poor results, the famous Argentine was asked to leave and fans across Leeds were left to witness a day they always termed as a nightmare. However, the league waits for none and Jesse Marsch took charge as the manager to guide the Whites back to safety and he has done so, at least to a certain extent, with back-to-back victories.
On the other side of the pitch, we have Southampton, who have seen all kinds of ups and downs. While they have troubled some of the big six with their attacking style of football, they have also lost momentum moving further down the line. Their star attraction James Ward-Prowse is always one set-piece away from securing a win for his team.
So how will Jesse Marsh's style of high press and Ralph Hasenhutti's rapid transitions and pressing go against each other? While we can look forward to a chaotic game, like the ones we usually see at Elland Road, the deciding factor could be how Southampton copes up with Leeds' new philosophy.
While Marsh hasn't created a huge impact, he has got over two weeks to work with the squad and fans will certainly be looking forward to something new. Returning players such as Kalvin Phillips and Liam Cooper could make a difference and only time will tell more about the same. However, if we get to see another weak defence from Leeds, Southampton could send the ball flying into the net.
Having conceded over 67 goals, the highest in the division, Leeds have a terrible defensive record and if they continue to have such problems, Southampton could come into the picture to ruin the party. While the Saints have conceded fewer goals, the number stands at 45, which is not something to be proud of.
However, we also see a few similarities between both these teams. The Saints have scored a total of 36 goals while the Whites have sent 35 into their opponents' net. Leeds have only won a total of 7 games whereas Southampton has won 8. Hence, this fixture could go down to the last minute, like any game involving Leeds, and is the perfect one where you can consult the services of BritainBet.
Leeds United vs Southampton: Head-to-Head
Leeds United and Southampton have played a total of 27 games in the Premier League and 7 of them have ended as draws. Thanks to the Yorkshire club's history of domination, they hold the majority in terms of victories but Southampton aren't far behind. The Saints could still cause some serious trouble and send the Yorkshire club back with another defeat.
| | | |
| --- | --- | --- |
| Teams | Leeds United | Southampton |
| Total Wins | 14 | 6 |
| Home | 7 | 5 |
| Away | 7 | 1 |
However, causing some serious trouble might not make sense when you look at the Saints' record at Elland Road. They have only managed to win one of their away games which tells you a lot about the history between these clubs and the atmosphere around Elland Road. While this record might direct some to consider a particular club over the other at football betting, it is also important to understand the unpredictable nature of the sport.
The Reverse Fixture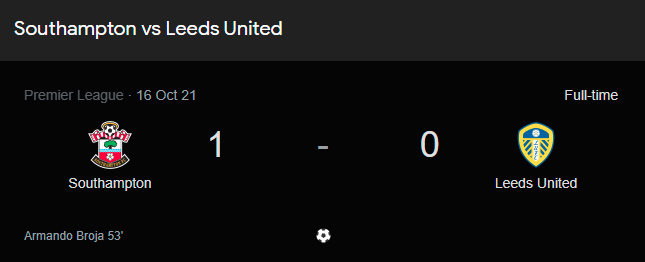 Southampton vs Leeds United (1-0)
16th October 2021
With zero shots on target, Leeds United faced one of their worst games of the season in the reverse fixture against Southampton. While possession didn't really offer anything, Southampton got the better of the Yorkshire outfit and went ahead to claim a famous victory.
Games from the Previous Season
Southampton vs Leeds United (0-2) – 18th May 2021
Leeds United vs Southampton (3-0) – 23rd February 2021
As you can see from the results, Leeds were able to get the better of Southampton last season and took over their opponents, both at home and at the away fixture. If they are able to repeat this feat, Southampton could lose a lot of ground and give away three points to a team that is trying to stay in the first division of English football.