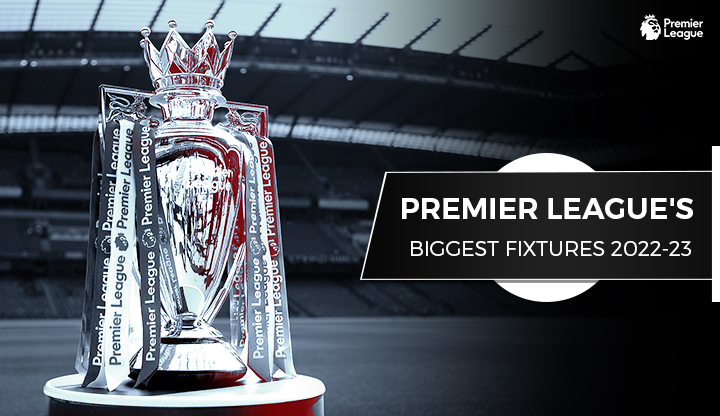 With one season gone, the next arrives because there's no stopping club football. Known by many as the best league in the world, the Premier League released its fixtures for the upcoming season and they are looking fine.
With clashes between some of the biggest clubs being scheduled, you need to check the following list and clear your dates because these games are 90 minutes of your life that you don't want to miss.
So let's take a look at some of the biggest fixtures of the 2022-23 Premier League season.
Biggest Fixtures Of The Premier League 22-23
Chelsea vs Tottenham (13th August, 2022)
There's no end to the football rivalry that takes place in London because you have clubs like Tottenham, Chelsea and more. And to kick off the season in style, we have Chelsea taking on Spurs at Stamford Bridge.
With both sides being boosted by new arrivals, we could be in for a treat.
Leeds United vs Chelsea (20th August 2022)
Leeds United ended up having a season to forget although they managed to avoid the drop. Chelsea, on the other hand, secured their place for European qualification and a fixture that proved to be vital as the one against Leeds.
While it was a comfortable evening for them at Elland Road, the clash at Stamford Bridge was a close affair, one that reminded fans of the historic rivalry that both these clubs enjoyed. So remember the date because Elland Road is going to be bouncing.
Manchester United vs Liverpool (20th August 2022)
'Manchester United's miserly, Liverpool's ultimate fantasy'. Those were the words uttered by Peter Drury when United faced Liverpool and were left stunned. In both the fixtures that they played against each other, United failed to score a single goal and thus ended up staring at an aggregate score of 9-nil.
Will the same happen under Ten Hag? Or will we see a change? Let's wait and find out.
Everton vs Liverpool (3rd September 2022)
Derbies have always been the ones to look out for and in September, we have Everton taking on Liverpool. Despite the results being one-sided, it's time to see how Lampard pushes forward this Everton side that nearly escaped relegation.
With Liverpool already adding a striker, this is a game that you should never miss.
Manchester United vs Arsenal (3rd September 2022)
United fans will be curious to know how their season will unfold because they have been promised a re-build. A fresh squad accompanied by the ideas of Erik Ten Hag will be the thing to look out for.
And if there are fixtures where one can prove that, then it has to be between Arsenal, another dominant team that nearly made it to the UEFA Champions League. So what do you think will happen at Old Trafford on the 3rd of September?
Manchester City vs Tottenham (10th September 2022)
City did not have the best of times while facing Tottenham as Guardiola's side lost against Spurs during the reign of Nuno Espirito Santo and Antonio Conte. Having broken records and created history, nobody expected City to lose against Spurs.
Despite coming in with close results it was Spurs who had the last laugh and we are yet to see whether that trend will continue.
Manchester United vs Leeds United (17th September 2022)
Manchester United and Leeds United share a well-defined rivalry, one that has gone on for ages and has even escalated to a few ugly scenes in and around their respective stadiums. Fans of both these clubs want to destroy each other on the pitch although the rivalry has remained one-sided for a long time.
Leeds haven't had the best of times against Manchester United and will look to change that when they enter the grounds of Old Trafford on the 17th of September.
Manchester City vs Manchester United (1st October 2022)
In order to bring joy to the faithful at Old Trafford, United have to beat their biggest rivals and go away with three points. However, that remains easier said than done with a certain Haaland among the ranks at the Etihad.
Guardiola has a new striker and next season will be his first in the Premier League. While United still boasts of a world-class international named Ronaldo, it is all about who else will be there in the squad to help United get back to winning ways.
Arsenal vs Liverpool (8th October 2022)
While Arsenal did have a rebuild, they couldn't get things off the line and beat the likes of Liverpool. Arteta understands that it's a long way to go and having arguments with Klopp isn't going to be of any use.
With both clubs making credible signings, one has to wait and see how things will turn out to be because the mood at the Emirates would be to beat Liverpool.
Liverpool vs Manchester City (15th October 2022)
When two giants of English football go head-to-head, you can expect a lot to happen. Every single fixture involving Liverpool and City have been exciting and one can hardly find any reason not to watch them.
With both squads being revamped for the new season, you can expect a lot to be different as Liverpool come back to claim more titles and City to defend their Premier League crown and possibly win the Champions League.
Since every title will only have one winner, you will have to wait and see how things turn out to be.
Liverpool vs Chelsea (21st January 2022)
When has a game involving both Liverpool and Chelsea not lived up to the hype? As skilled players and unique strategies dominate the process, getting to watch Liverpool take on Chelsea has and will always be a visual treat.
Fans of both clubs get to see something exciting as they look forward to getting all three points and moving ahead to see their team lift one title after the other.
So remember the dates for these fixtures and stay tuned because the league is just around the corner.