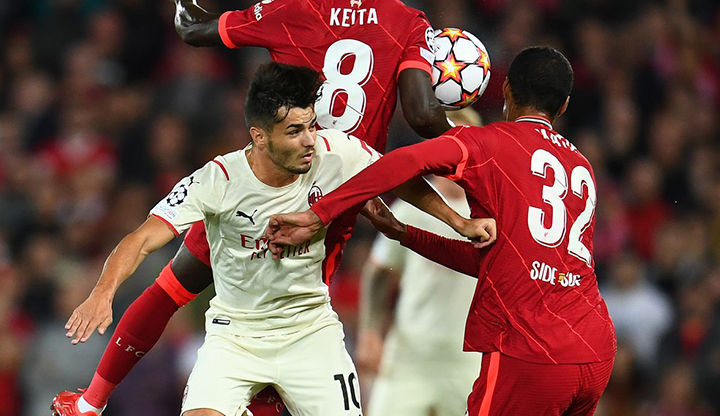 Liverpool has dominated the Champions League group stage games and they have already qualified for the next round. AC Milan, on the other hand, needs to win their remaining games and hope for the best. So a clash between both these sides will be an interesting one as we get to see Milan try their best to win a game against Liverpool. While the Reds are the favourites to win the clash, anything could happen because we are talking about the Champions League.
Matchday 6 of 6
The final games before the round of 16 have always been entertaining as the Champions league takes shape to offer who could qualify for the next round. Since it is a do or die game for AC Milan, we could be in for a good night of football. So let's dig deep into a mode of analysis and try to understand who can come out on top when Liverpool travel to San Siro. 
Date and Venue 
The last set of games before the round of 16 will feature AC Milan taking on Liverpool on the 8th of December 2021 at the San Siro. 
AC Milan Vs Liverpool: Team Analysis 
1. The Goal Scoring Threats 
Both Liverpool and AC Milan have the potential to press hard and have players in the box who can come in and find space to kick the ball past the goalkeeper. While Liverpool certainly has a dominant front three, Milan seems to be falling short of firepower in the Champions League. In Serie A, Milan sits second in the table and have performed extremely well to keep the momentum going.
And if they have to bring that into the Champions League, they will have to try and stop Mohamed Salah, Sadio Mane, Diogo Jota and Trent Alexander- Arnold, who constantly sends out a beautiful ball for the forwards. However, AC Milan will have Zlatan Ibrahimović, who missed their last meeting against Liverpool. 
2. Formations
When it comes to formations, it is hard to predict what goes in Jurgen Klopp's mind or Stefano Pioli's tactical brain. Both are experienced coaches, who understand the process and can set their team up in a proper manner. Whether or not both teams will go with their previous formation of 4-3-3 for Liverpool and 4-2-3-1 for AC Milan is yet to be seen. While that worked for Liverpool in their previous clash against Milan, it did end up being a goal-scoring affair for both teams with the Reds leading with a single goal. (3-2).
So the question will be as to how Stefano Pioli will set his team up and face a Premier League side that is constantly attacking and constantly scoring goals.
3. A Unique Clash : Zlatan Ibrahimović vs Virgil Van Dijk
When AC Milan was set to return to the Champions League after eight years, their debut game was against Liverpool. And the key battle that everyone wanted to see was between Zlatan Ibrahimovic and Virgil Van Dijk. However, Zlatan could not make it due to a small injury and Jurgen Klopp decided to place Van Dijk on the bench. So the big question that we will all be asking on the 8th is whether or not both these superstars will be playing against each other. 
Zlatan, who turned 40 recently, is on the list of top scorers for Milan and Van Dijk, as we all know, has the potential to limit strikers from scoring. So if Jurgen Klopp decides to play Van Dijk and if Zlatan will also be a part of the action, we will certainly be in for a treat.
4. AC Milan Vs Liverpool: Head-to-Head
AC Milan and Liverpool have a brief history of playing three games against each other, where two of them were for the Champions League Finals in 2004/05 and 2006/07. While Liverpool won on penalties in the 2004/05 season, Milan took them on and won the final in 2006/07. Due to that, their clashes are highly anticipated and with pressure mounting on Milan, they will need to give the visitors a hard time. 
| | | |
| --- | --- | --- |
| Teams | AC Milan | Liverpool FC |
| Games Won | 1 | 1 |
| Games Lost | 1 | 1 |
| Games Drawn | 1 | 1 |