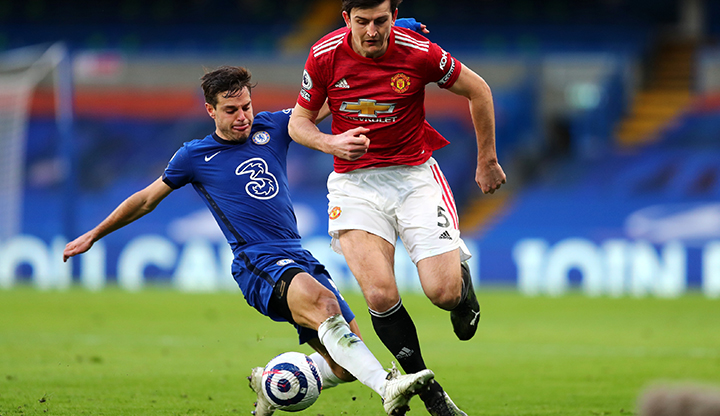 The red half of Manchester taking on the blue side of London is not a small game but an important one that dates back to a historic rivalry between two of the biggest teams in English football. But when you fast forward to the 2021/22 season of the Premier League, a game between Chelsea and Manchester United is bound to signal trouble for the reds because, as we all know, they are not in good shape.
Matchday 13 of 38
Following games against Leicester City and Watford in the Premier League, both Chelsea and Manchester United are set for a unique clash. While both the teams were known as title favourites at the start of the league, only Chelsea have managed to keep the momentum going and convince everyone that they are indeed, the Champions of Europe. With a dominating run, the blue side of London is not prepared to stop and we doubt they will show any mercy against Manchester United. 
Date and Venue
The battle between Chelsea and Manchester United, which features on matchday 13 of 38, will be held on the 28th of November at Stamford Bridge. 
Chelsea Vs Manchester United: Team Analysis 
1. The Defenders
One of the main reasons for Chelsea's dominant display could be credited to their defenders and keeper, Edouard Mendy. Together, these players have managed to pull off clean sheets and prevent the opponent from even thinking about scoring. Due to that, a team like Chelsea is hard to beat and once they are in form, it's also hard to prevent them from scoring. 
On the other hand, United are not known for keeping clean sheets, especially when they have faced the big teams in the Premier League. After a heartbreaking loss to Liverpool, United also recorded a loss in the Manchester Derby where City came forward to put two goals past David De Gea. Following the defeat at Watford, United are in bad shape with the management searching for a coach and club captain, Harry Maguire, facing a one match suspension. 
With all these aspects, United will have to turn things around if they need to beat a side that is getting better every other week. 
2. The Goal Scoring Threat
When a team consists of one of the best players in the world, we need not go all around to think about a better goal-scoring threat. Cristiano Ronaldo, on many occasions, has had to help United and many will argue that he is one of the main reasons why they are pulling through the Champions League. With his experience and ability, the defenders at Chelsea will have to constantly monitor him as he keeps pulling off surprises one after the other. 
While Ronaldo remains the threat at United, it is hard to assess a single threat at Chelsea, especially when their defenders are entering the scoring sheet. Despite the continued absence of Romelu Lukaku, Chelsea have not slowed down as their players continue to score goals from all angles. So if we are classifying the goal-scoring threat of Chelsea, we would have to stick to all 11 of their players.
3. Thomas Tuchel Vs Michael Carrick 
Michael Carrick is set to be in charge until United find an interim manager. And the former Manchester United midfielder has a huge task ahead with the Champions League and Premier League games coming in full swing. And to start things off in the Premier League, the caretaker cum manager will have to find a way to stop Thomas Tuchel. 
The German boss is known to turn things around and considering Chelsea's position in the table, it will not be a surprise if he finds his way forward. Tuchel has not only changed the way Chelsea plays but has also instilled a new form of hope within the club that has clearly worked out with a Champions League title and being positioned as favourites to win the Premier League. 
4. Chelsea Vs Manchester United: Head-to-Head
The last two meetings between Chelsea and Manchester United in the Premier League ended in draws and that should keep you informed about the high octane clash that is set to take place between both these teams. While Chelsea has the upper hand, it is hard to disregard the potential that Manchester United hold, especially if a comeback is on the charts. With all these in hand, football betting might be something that you consider and if you are, BritainBet is the right answer for all. 
| | | |
| --- | --- | --- |
| Teams | Chelsea | Manchester United |
| Total Wins | 18 | 17 |
| Home | 12 | 11 |
| Away | 6 | 6 |
Chelsea and Manchester United have played a total of 58 games in the Premier League and out of the same 23 have ended up being draws. As you can see from the table above, these teams are quite close to each other in terms of their record and Sunday's game will bring in another figure on the board.
5. Chelsea Vs Manchester United: Last Three Meetings
Chelsea Vs Manchester United – 0-0 (28th February 2021)
When Chelsea faced Manchester United on the 28th of February at Stamford Bridge many expected them to lose. However, both these teams managed to keep their unbeaten run alive and ended up facing a goalless draw.
Chelsea Vs Manchester United – 0-0 (24th October 2020)
The last game between these giants in 2020 once again ended in a draw as both teams faced each other at Old Trafford. Thanks to Edouard Mendy's efforts, Chelsea were able to keep a clean sheet.
Chelsea Vs Manchester United – 0-2 (17th February 2020)
Not being able to keep a clean sheet at home is not something Chelsea are known for. However, the 17th of February changed things forever when Manchester United were able to break things up at Stamford Bridge, thanks to goals from Anthony Martial and Harry Maguire.