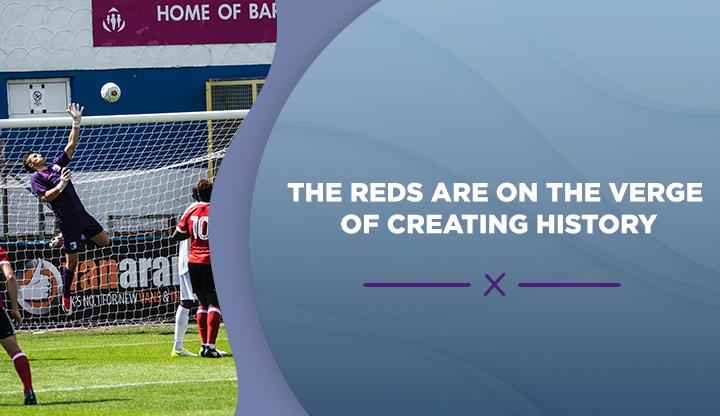 For the unversed, Liverpool are on the hunt for the quadruple. The quadruple includes winning the Premier League, the UEFA Champions League, the FA Cup and the Carabao Cup, which Liverpool have already claimed their own.
For the rest, they are a point behind City in the Premier League, a final away against Real Madrid for the Champions League and a final against Chelsea for the FA Cup. Hence, the Reds are on the verge of creating history and if they do end up winning everything, they will become inevitable.
So if you are looking to be a part of this mix, meaning placing bets on this fixture or the upcoming fixtures, look no further than BritainBet.
We are into matchday 36 of 38
After a week of adrenaline pumping and anything-can-happen-Champions League football, it is time to go domestic and watch the Premier League. We have some of the best fixtures lined with clubs looking to attain their end of the season objectives.
While City continues to hold the lead, it is yet to be seen whether their recent ousting from the semi-final of the Champions League will have an effect on their fourth Premier League title.
But for now, let's focus on Liverpool vs Tottenham because both these clubs have a lot to achieve and it all depends on what happens in the gap of 90 minutes.
When and where is this intense clash set to take place?
Liverpool vs Tottenham will be served hot to the fans at Anfield and is set to take place on the 8th of May.
Liverpool have started dreaming but Spurs haven't stopped either
Pulling off the impossible is not an easy task, at least not when you have fixtures against the likes of Tottenham, Chelsea and Real Madrid. But the Reds are known for the big stage and in their current form, they hardly disappoint.
However, Antonio Conte's Spurs won't be looking to do any favours and neither are the rest of the teams yet to battle Liverpool. Despite the fixture being at Anfield, the Reds can't slip up, nor can the Citizens of Manchester.
With Pep Guardiola losing yet another shot at Champions League glory, the last coming in 2011, he along with his City squad have only the Premier League to look forward to. They have only one title to win this season and it could be the fourth Premier League crown for Guardiola.
However, a draw or a small slip will be a big boost for the Reds and a nightmare for Guardiola. Tottenham, on the other hand, are doing everything that they can to stay in the race for the top four. They have a few interesting fixtures lined up because soon after facing the Reds, they will welcome their close rivals Arsenal to the Tottenham Hotspur Stadium.
Moreover, a club under Conte, not entering the top four and not competing in the Champions League, seems a bit weird even though they are known to be a little Spursy at times. The improvement in attacking style and formations under Conte is there to be seen and it won't be easy for Jurgen Klopp and company.
In the reverse fixture, the game ended as a draw since both sides saw two goals being smashed into their nets. That memory will stand as a nightmare in the minds of the Reds because they know that a draw at this stage will cost them. It will cost them a lot.
Despite Conte's improved style of play, the Reds hold the momentum and can go away with three points. However, it is not as easy as it sounds because the pressure of being at this stage and at this level is going to cost a lot. So call all your friends, family, well-wishers, lovers of football, people involved with football betting and everyone you know because this fixture is going to be a treat.
Liverpool vs Tottenham: Head-to-Head
Liverpool and Tottenham have been in the Premier League for ages and have played 59 games together, which also includes some of the best fixtures of all time. Only 16 of them have ended as draws and in terms of taking the lead, the Reds are way ahead of Spurs. So look at the following table to see how these clubs have performed in the Premier League.
| | | |
| --- | --- | --- |
| Teams | Liverpool | Tottenham |
| Total Wins | 29 | 14 |
| Home | 19 | 12 |
| Away | 10 | 2 |
As you can see the Reds have the lead. But that does not mean that Tottenham will make things easy. Spurs could end Liverpool's dreams, especially when they have a team with the firepower of Son and Kane and the tactics of Antonio Conte.
The Reverse Fixture
As mentioned earlier the reverse fixture saw both teams leave with a point as some controversial refereeing decisions came under the scanner.
Tottenham vs Liverpool (2-2)
19th Dec 2021
Despite the heroics of the ever-reliable Trent Alexander-Arnold and goals from Jota and Robertson, Liverpool could only settle for a point as goals from Harry Kane and Son were enough to equalise.
With Son's goal coming in at the 74th minute, Spurs earned a much-needed point in a fixture where everyone predicted them to lose.
Results from the Previous Season (2020-21)
Despite their current season being a good one, it is fair to add that both these teams did not have the best of times in the previous season. Liverpool with their trouble with injuries and Tottenham with their underperforming team and manager had to go through a lot to get to where they are currently.
Liverpool vs Tottenham (2-1)
16th December 2020
In the previous season, the first fixture between these clubs saw Liverpool do what they do best, i.e. beating Tottenham. Thanks to goals from Salah and a 90th-minute goal from Firmino, Liverpool were able to move ahead and get things going.
Tottenham vs Liverpool (1-3)
28th January 2021
The reverse fixture also saw Liverpool do what they do best, i.e. beat Tottenham. Apart from a single goal by Pierre-Emile Hojbjerg, Spurs had no answers and had to see Firmino, Arnold and Mane score three goals to seal the victory.