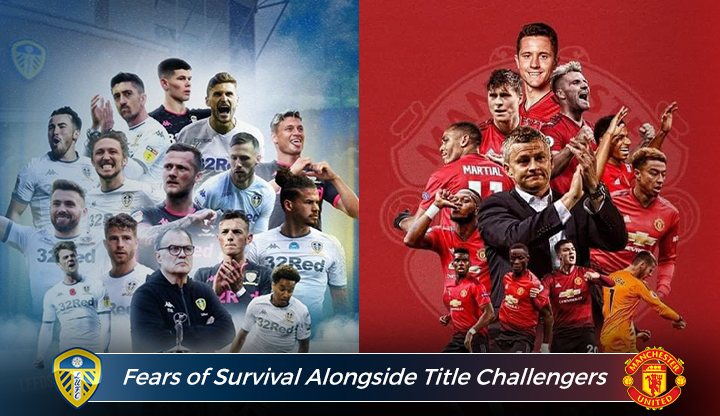 Leeds United haven't had the best of seasons. And judging by Manchester City's standards, you could say they are where they were supposed to be, except for the fact that they have Liverpool right behind them. So City require points to increase the gap with Liverpool and Leeds require points to do the same in order to avoid the drop.
If we were ever to ask the simple question of who might get all three points in this fixture, everyone would say City for obvious reasons. However, this is an unpredictable league and you have to see it to believe it.
A fiery matchday 35 of 38
Matchday 35 of 38 seems to have all the right fixtures with Everton vs Chelsea, West Ham vs Arsenal, Manchester United vs Brentford and Leeds United vs Manchester City. As the Yorkshire giants have been earning points to avoid the drop, they now face a run of fixtures that can easily be termed as the most difficult.
After the arrival of City, Leeds travel to the Emirates to face Arsenal and then welcome Chelsea to Elland Road. So the run is certainly going to get difficult and Leeds will have to do everything possible to withstand the pressure, quality and starpower emerging from these teams.
Remind us, when is this fixture going to take place?
Leeds United vs Manchester City will take place at Elland Road on the 30th of April. And if you believe that you have a prediction for this exciting encounter, you can rely on the services of BritainBet.
Marsch's nightmare = Pep's three points?
Both Leeds United and Jesse Marsch have had to face the wrath of Manchester City in the recent past. While Leeds succumbed to their worst defeat in the reverse fixture, a 7-nil thumping to be precise, Marsh's RB Leipzig went on to lose a nine-goal Champions League thriller against Manchester City.
So it's safe to say that this meeting is not going to be the best for Leeds unless they find a way to come up with a better performance, at least better than what they did at Selhurst Park against Crystal Palace.
Regardless, the blue half or we dare say, the better half of Manchester, will be the ultimate test for Leeds United. Pep's boys have everything that you need in a football team and each time people say they lack a striker, they have someone surprisingly called Jesus, to come and rescue them.
Gabriel Jesus is in top form. So are Kevin De Bruyne, Phil Foden and most of their midfield. So Leeds will have to turn up for a fight because City is going to be tough and so will the crowd at Elland Road.
The famous Yorkshire stadium, which wasn't able to see top-flight football for over 16 years, has finally got all that they need. However, if the team continues to underperform and if the clubs below Leeds perform well, then the Whites will have to make a return to the Championship.
Could we see a draw?
Under the iconic Marcela Bielsa, Leeds United had an open defence that saw them concede more than 60 goals, which went on to be the third-worst defensive record in the league. However, Marsch has managed to turn the ship around and strengthen them defensively, although scoring goals seems to be the new problem.
Leeds United concede fewer goals under Marsch's zonal system and each time they go forward, you can see at least two midfielders holding ground at the back. Due to that, the main question of the hour will be whether Leeds could manage to get a draw and send a special message to Liverpool?
While a draw against league leaders City isn't really easy, one cannot disregard the possibility and the fighting spirit put forward by Leeds. At least a few among the fans will see it as a possibility and some of them might even be involved with football betting.
So if City fails to find the back of the net and ends up with only a point, that could prove to be crucial for Leeds United's fight for survival and Liverpool's fight for the title. Hence, let's sit back, wait and see what might happen when Leeds United vs Manchester City kick-off at Elland Road.
Leeds United vs Manchester City: Head-to-Head
Leeds United's historic and successful past has seen them lead the head-to-head stat against City, an ode to the times Don Revie turned Leeds into a goal-scoring machine. Together, both these clubs have played 17 games in the top flight and 5 of them ended as draws.
| | | |
| --- | --- | --- |
| Teams | Leeds United | Manchester City |
| Total Wins | 7 | 5 |
| Home | 5 | 3 |
| Away | 2 | 2 |
As you can see Leeds have two more victories than City. But if the Yorkshire club don't find the back of the net soon, they might lose the lead along with their Premier League status.
The Reverse Fixture 
Manchester City vs Leeds United (7-0)
14th December 2021
The biggest defeat in the history of Leeds United and Marcelo Bielsa's career. A 7-nil humbling ended up being a disastrous night for the Whites as they suffered from injuries even before the game had begun.
City, accompanied with their quality and power regularly found the back of the net and continued to do what they do best.
Results from the Previous Season 
Manchester City vs Leeds United (1-2)
10th April 2021
There are a few fixtures that will be remembered forever and this is one among them. Playing Bielsa ball at the Etihad Stadium, Leeds went on to stun City and take all three points as a last-minute goal from Stuart Dallas wrapped up the party, despite Leeds being reduced to 10 men.
Leeds United vs Manchester City (1-1)
3rd October 2020
It was a dream run for Leeds United in the 2020-21 season in the Premier League as they went on to be undefeated against City. In the fixture against the title winners, at Elland Road, Leeds had 7 shots on target, 5 more than City.