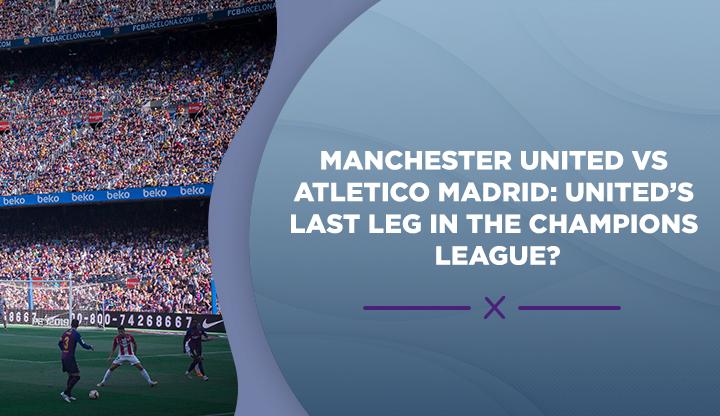 One does not require a special write-up to understand that the Champions League is a place where anything could happen. For example, take a look at the Real Madrid game where PSG were eliminated, again. Despite spending millions and adding some of the world's best players, PSG fans find their headlines to be whatever Nasser Al-Khelaifi did after that game. =
And now it is time for Manchester United to face their ultimate test. While the odds of them winning the Champions League are almost invisible, the question at the moment is whether they can qualify to the next round. So let's sit through a preview and learn all that is available about Manchester United taking on Atletico Madrid in the round of 16.
The Last Fixtures in the Round of 16
The UEFA Champions League is nearing the end of the Round of 16 and we have already seen some big names exit the competition. And for the biggest fixture in the final round of 16, we have United trying its luck to get past Atletico. Apart from United's game, we also have Ajax taking on Benefica, Juventus taking Villareal and LOSC taking on Chelsea.
So the final stages of the round of 16 are sure to offer some thrills and we can't wait to see it all. Hence, if you are as excited as we are and want to be closer to the thrill of the competition, you can consider the services offered by BritainBet.
When and where is this clash taking place?
Manchester United vs Atletico Madrid will be held on the 16th of March at Old Trafford.
Will the Real Ronaldo Please Stand Up?
The first leg of this game between these two clubs ended in a draw thanks to Anthony Elanga's late introduction and Joao Felix's quick feet. However, as you can understand the main attention went towards Ronaldo who did not score, did not assist and in the entirety of the game, did not have a command over it at all. He was not the Ronaldo that we are used to seeing in the Champions League and especially not against Atletico Madrid.
However, the finger cannot only be pointed towards Ronaldo because the team, as a whole failed to create chances. Hence, in the second leg, Ralf Rangnick will have to bring in the right changes if United wish to qualify to the next round. Opting for pace with the likes of Elanga, Rashford and more seems like a real possibility and one that could threaten Madrid's defences.
But that cannot end the debate on United's defending, which in recent times has turned into something unbearable. And on the 16th, there cannot be any excuses, especially when you will be facing former Liverpool striker Luis Suarez. Fixtures of this sort have been known to bring in the best of Suarez, which can only mean trouble for United's defence and its main lead, David de Gee.
Manchester United Vs Atletico Madrid: Head-to-Head
Head-to-head stats tell you a lot about teams and how they have faced each other. It is not just a mere collection of figures but also a suggestion of how one can plan their take on football betting. So the head-to-head stats of Manchester United and Atletico Madrid look like the following.
| | | |
| --- | --- | --- |
| Game | Result | Competition |
| Atletico Madrid vs Manchester United | 3-0 | UEFA European Winners Cup |
| Manchester United vs Atletico Madrid | 1-1 | UEFA European Winners Cup |
| Atletico Madrid vs Manchester United | 1-1 | UEFA Champions League |
With Ronaldo back in form and United firing again, one could tell that Manchester have an upper hand and could go in for everything. However, questions about defensive struggles have and will always wander around the pitch at Old Trafford. Lack of clean sheets and mounting pressure on club captain Harry Maguire all seem to be continuing till the end of the season.