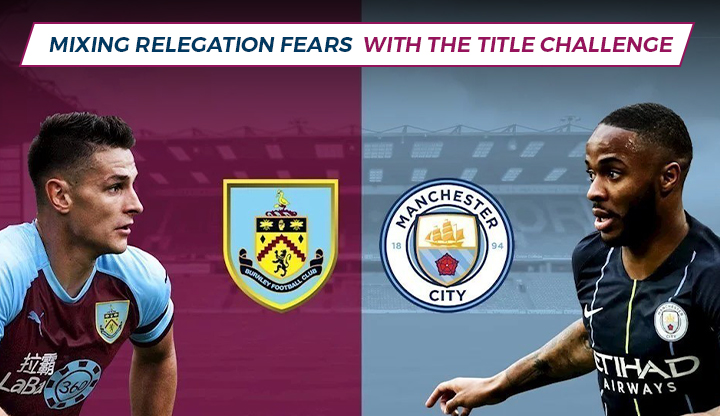 Two weeks are done. The international break is done. It's time to get back into the Premier League and continue watching some of the best players in the world go against each other. And to start things off, we have Burnley taking on Manchester City in a fixture that is important for both teams. 
While Burnley wants to continue their status of being a top-tier football club, City want to keep Liverpool behind in the title race. Hence. Both clubs need everything from this fixture.
Get set for matchday 31 of 38
Matchday 31 of 38 is finally here and it seems like every fixture is important for every club as we reach the final stages of the Premier League. With 9 more match days to go, the league is shaping up to provide us with a glimpse of who will win the title, who will qualify and unfortunately, who will leave the Premier League.
And as far as the title race is concerned, matchday 31 of 38 is quite important for both Liverpool and Manchester City as both teams cannot drop points. While Liverpool vs Watford takes place at Anfield, Burnley welcomes Manchester City just a few hours later. And as far as Burnley is concerned, every single fixture moving forward will decide their status as a Premier League club. 
When and where is this game taking place? 
Burnley vs Manchester City will take place on the 2nd of April at Turf Moor. 
Will City run the show? 
If one has to look at past results, squad depth and how both teams are shaped, there's no doubt about the fact that everyone is looking for an easy 3 points for City. For some, it might also be a guarantee that they are already placing their bets on City via football betting.
However, let's keep assumptions aside and analyse the game for what it provides. A Pep Guardiola team is sure to come with depth and attack whenever an opportunity arises. Their abundance of midfield quality is too much for any Premier League team and Guardiola might be the only one capable of driving a team like this forward without having a recognised striker.
From Foden to De Bruyne and the newly acquired Grealish, Guardiola has a sea full of attacking quality capable of playing the false nine role. With his tactics and knowledge proving to be the best in the world, it is quite hard to surpass Manchester City. 
On the other hand, we have Sean Dyche's Burnley, who with a budget much lesser than City's has managed to stay in the Premier League for years. Dyche has been keeping Burnley alive for years and this might be the season where he finally goes down. 
Lack of results, lack of player investment and more has finally caught up with Burnley. While they do have games in hand, it is hard to say how they will manage to get out of the bottom with teams above them winning games and Burnley losing to all.
In the reverse fixture against City, Burnley lost the game as two goals went into their net. So this game is going to be hard for Burnley as they might look to gain points from some of their upcoming fixtures. 
However, Burnley have in the past and in this season provided us with some surprises. So if they can do so again, a draw would be a surprise and a big boon to Liverpool who are closing in on Manchester City. 
Burnley vs Manchester City: Head-to-Head
The head-to-head stats between these clubs talk about how different they are from each other. Burnley have rarely got the better of Manchester City except for once. So judging by the head-to-head stats, you are going to predict the results in one particular direction and if you wish to place bets by using it, you can look to use the services of BritainBet. 
| | | |
| --- | --- | --- |
| Teams  | Burnley  | Manchester City |
| Total Wins | 1 | 11 |
| Home  | 1 | 6 |
| Away  | 0 | 5 |
Having played 15 games in the top flight, City have taken the lead in 11 and don't seem to be in a position to lose any time soon. 
The Reverse Fixture 
Manchester City vs Burnley (2-0)
Etihad Stadium, Manchester 
The reverse fixture was certainly something to watch for as City did what they usually do. While Burnley had 2 shots on target, City had two goals on the scoresheet thanks to Bernardo Silva and Kevin De Bruyne. And thus the game was sealed with 3 points going to City. 
Fixtures From the Previous Season
Burnley vs Manchester City (0-2) – 3rd February 2021 at Turf Moor
Manchester City vs Burnley (5-0) – 28th November 2020 at Etihad Stadium
The previous season ended with City lifting the Premier League title and Burnley avoiding the drop to remain as a Premier League club. It was another achievement for both Guardiola and Dyche. While the former lifted the title, the latter with a small investment kept Burnley alive. 
However, when they met, it was Guardiola who got the better of Sean Dyche.