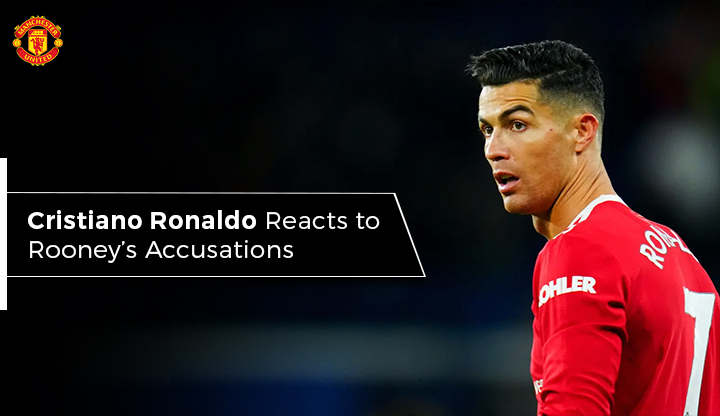 Cristiano Ronaldo's comeback, according to Wayne Rooney, has not aided Manchester United.
The Manchester United veteran advocated for the striker to be substituted by youthful players.
On social media, the Portugal international retaliated against his old teammate.
The 37-year-old reacted to Rooney's Instagram picture, calling him 'jealous.'
The Red Devis attack in the midfield was once dominated by the Ronaldo Rooney duo at Old Trafford which lasted for a long period of time. But, things have changed pretty quickly as both are not in the same chapter as of now.
The Ronaldo transfer to Manchester United was heartwarming for all the football fans across the globe and the Portuguese superstar has made his presence felt from the word go at Old Trafford as well. But now, he was questioned and criticized by his old teammate and English football legend Wayne Rooney who claimed that his return has never benefited the club in any manner.
The Red Devils' all-time leading goalscorer was hosting the show and was a guest for the day's coverage. While expressing his honest feelings about the future of the club and what should be done for United to regain their glory during the coverage of Arsenal's Premier League defeat at Crystal Palace, he went too far out to say that Ronaldo should be replaced by younger players in the side.
Rooney claimed that Ronaldo is "getting on a bit" and "isn't the player he was", as he is regularly facing criticism at Old Trafford for failing to match up with the level of commitment and enthusiasm that the club demands out of their players. Ronaldo usually replies to his critics through his performances but for now, he has responded in a flash by branding Rooney as jealous.
What did Rooney say about Ronaldo?
Wayne Rooney who made an appearance as a guest during the Premier League match coverage of Sky Sports was asked about the re-signing of the football legend to the club. He was asked if the move has worked out for the Red Devils and he replied:
"You'd have to say no, at the minute."
"I think he's scored goals, he's scored important goals in the Champions League early on in the season. He scored the hat-trick against Tottenham."
"But I think if you look to the future of the club you would have to go with younger, hungry players to do the best to lift Manchester United over these next two, three years."
"And obviously Cristiano is getting on a bit. He certainly isn't the player he was when he was in his 20s. And that happens, that's football. He's a goal threat but I think the rest of the game they need more, they need young, hungry players."
"I think they've got good young players. I think [Jadon] Sancho will be better next year, I think Marcus [Rashford] will be better next year."
"They've got good young players, I think Jesse Lingard should be playing for them because he brings energy, he brings quality. Scott McTominay has done well, so they have got some good young players."
"They just have to get that confidence, get them believing they are good players and perform at a better level, and then obviously whoever the new manager is he'll bring his own players in and try to rebuild that group."
How did Ronaldo respond?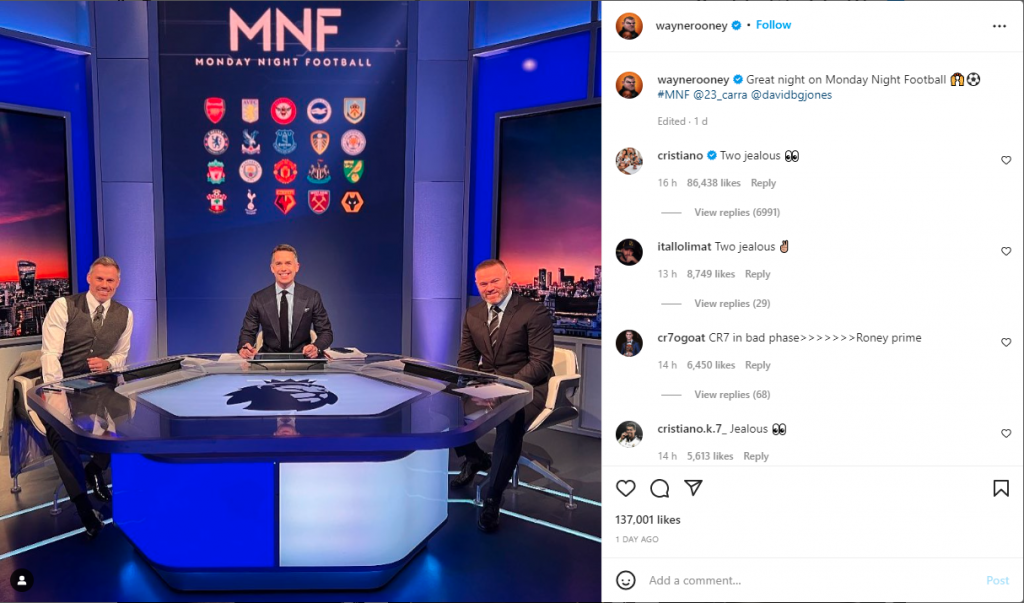 Ronaldo was not at all happy with the statement made by his former teammate even after seeing all the astonishing performances that he had produced for the side. HE responded to the Rooney video on Instagram by commenting in it as "two jealous".
Ronaldo has put forward a commentable performance for his side as he has scored hit 18 goals from 32 appearances across all competitions. Ronaldo wanted to win at Manchaester United and would have to end the campaign without a single trophy as the team has been knocked out from all major competitions. But, Mr. Champions League Ronaldo would be hoping to give his best at the Champions League this season along with a top four finish for the club in the Premier League.