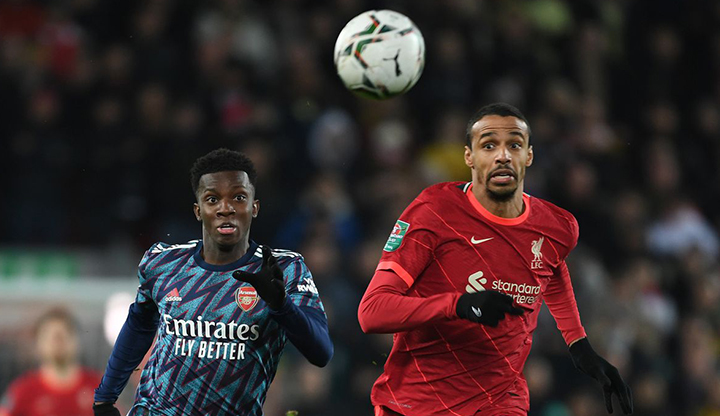 The international break halts club football and fans are always furious about the same. However, once it resumes, we will be treated to some thrilling action as Arsenal are set to travel to Anfield to face Jurgen Klopp's Men. With Liverpool's unbeaten record being broken by West Ham United, the reds will be looking to bounce back as they welcome Arsenal, who are also maintaining their unbeaten run since the start of September. 
Matchday 12 of 38
After receiving heavy criticism for Arsenal's poor start to the campaign, amidst calls for sacking Arteta, the Spanish football manager seems to have turned things around. Arsenal are leading an unbeaten run since September and have also managed to keep a clean sheet in most of these games. However, during this period, they have also not faced a dominant side like Liverpool and the last time they did face City or Chelsea, it ended up being big defeats. 
So can Arsenal maintain their good run against Liverpool when they face the former champions at Anfield? Well, only time will tell. 
Date and Venue
Liverpool and Arsenal are set to play against each other on the 20th of November at Anfield on matchday 12 of 38.
Liverpool Vs Arsenal: Team Analysis
The Ultimate Test for the Gunners
Arsenal seem to have gone through a good transition under Arteta and are only 2 points away from reaching the top four. Sitting right above them is the dominant Liverpool, who could not end the international break on a good note, following the 3-2 loss to West Ham United. However, that loss is not hampering down their title hopes and the reds are expected to be in top form when they meet Arsenal. 
So the real question is whether or not Arsenal are up for the challenge of facing an elite club of Europe and coming away with three points or a draw. Due to all that is at stake, this game at Anfield will be the ultimate test for the gunners and if they can carry forward their winning record, they can move on to be placed at a good position on the table.
Analysing the Goal-scoring Threat
At the moment, both Liverpool and Arsenal have players who stand as a clear goal-scoring threat for the opposing team. But who among them will get on the scoresheet first and help their teams get the momentum going? With Liverpool, we have Mohamed Salah, who arguably, is one of the best in the world at the moment. And with Arsenal, we see an emerging hero in the form of Emile Smith Rowe who provides the right backing for Pierre-Emerick Aubameyang. 
Once Liverpool's forward lineup gets charged, Arsenal are bound to have a bad time trying to stop them.
Keeping a Clean Sheet
Keeping a clean sheet at Anfield has never been easy for visitors as the reds know how to turn things their way. With Liverpool's centre back pairing involving the likes of Virgil Van Dijk, Ibrahima Konaté, Joel Matip and Joel Gomez, Arsenal will have a huge task at hand as they try to get past them and face Alisson Becker in front of the line. With Van Dijk being in top form, Klopp has never dropped the centre-back for any game and it is highly unlikely that he will do so when Arsenal come to Anfield.
On the other hand, the centre back pairing of Ben White and Gabriel also seems to be clicking for Arsenal and the biggest threat that they pose to Liverpool will be the high-flying Aaron Ramsdale. The keeper has been exceptional for Arsenal and has also managed to keep a clean sheet on many occasions. Hence, keeping a clean sheet for either team will rely on Van Dijk, Ben White, Alisson and Ramsdale.
Liverpool Vs Arsenal: Head-to-Head Record
The head-to-head record between Liverpool and Arsenal showcases the reds being a dominant force with the gunners staying way back in the line. Out of their last five meetings, Arsenal have only managed to beat Liverpool once. As a result, Arteta needs to get his men charged to face the mighty reds in order to come home with three points. With all these stats pushing the game to be exciting, one might consider football betting and if you are one among them, you need to try out BritainBet.
| | | |
| --- | --- | --- |
| Teams | Liverpool | Arsenal |
| Total Wins | 23 | 16 |
| Home | 15 | 10 |
| Away | 8 | 6 |
Out of 58 games that both Liverpool and Arsenal have played against each other in the Premier League, both teams have come to face 19 draws and Liverpool leads the charts with 23 victories. 
5. Liverpool Vs Arsenal: Last 3 Meetings
Liverpool Vs Arsenal – 3-0 (3rd April 2021)
The last meeting between both these teams saw Liverpool being dominant at the Emirates Stadium in London. Two goals from Diogo Jota and one from Mohamed Salah saw the reds seal an away victory with ease.
Liverpool Vs Arsenal – 3-1 (29th September 2020)
Arsenal last visited Anfield on the 29th of September 2020 and were made to watch three goals get past their goal line. Goals from Sadio Mane, Diogo Jota and Andrew Robertson brought forward a victory for the reds despite Alexandre Lacazette scoring the first goal of the evening.
Liverpool Vs Arsenal – 1-2 (16th July 2020)
Arsenal last beat Liverpool on the 16th of July 2020 when the reds visited the gunners at the Emirates Stadium, London. Goals from Alexandre Lacazette and Reiss Nelson helped snatch victory for the gunners.