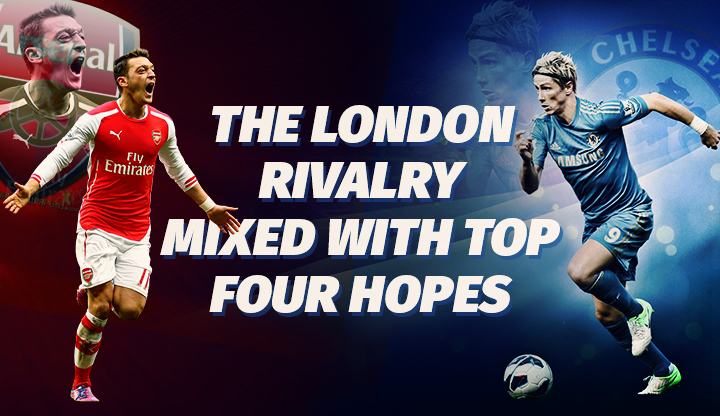 There are no excuses. There are no second chances. This is the race for the top four and you cannot fall short of the same because you are in the best league in the world. Regardless of your club's uncertainty around its owner, you have to fight and stay within the top four. And regardless of your club's uprising, you cannot really make a mark if you aren't in the top four.
Hence, being and remaining in the top four is the agenda for both Chelsea and Arsenal. Since the Blues have an upper hand, can the Gunners do well to fare against them?
Dating back to Matchday 25 of 38
We are back in the mix where the Premier League's famous postponed fixtures are finally scheduled to take place. Moreover, we also don't have to wait for the weekend because a mid-week game as big as this one could not have come any time sooner. Despite all the action that we witnessed at Anfield when Liverpool took on Manchester United, it's time to see what Chelsea and Arsenal have for us.
While Chelsea are in a comfortable position in the league, they currently only have an FA Cup final to look forward to and that is it in terms of titles for this season. Their points in the league should be enough to keep them in the top four but the same cannot be said about Arsenal. Along with Tottenham and Manchester United, Arsenal are also in the mix for the top four and only time will tell which one of these teams will qualify.
When will Chelsea welcome Arsenal?
Chelsea vs Arsenal is scheduled to take place at Stamford Bridge on the 21st of April.
Tuchel is running things while Arteta is searching for solutions
By looking at these London clubs and their position on the table, you will surely understand that the Gunners need three points more than anybody. While Chelsea don't necessarily want a loss, the Gunners would very much love that. But can the young Gunners grab a win at Stamford Bridge?
Arteta has seen a new and improved Arsenal that could be a significant move in taking Gunners to European football. However, heading towards the top four also means that you need to battle it out with the rest of the clubs in the big six. And on that record, the Gunners don't seem to be doing well.
While their recent loss to Southampton was questionable, what requires more of our attention is that in the last five games, this new and improved side have only won 1 and lost all four. So a trip to Stamford Bridge comes at the worst possible time and we can already see the ones involved with football betting choose Chelsea over Arsenal.
Hence, it is true that Arteta needs to find some rhythm again because he cannot always rely on Tottenham and Manchester United's slip-ups. On the other hand, we have a Chelsea squad, who despite going through some dark financial conditions, is showcasing that they have what it takes to move forward.
After smashing Southampton for 6-nil, they went on to beat Crystal Palace in the FA Cup semi-final and thus have used every single opportunity to win games ever since they were knocked out of the Champions League. So a fixture of this nature against an underperforming side could be easy for Tuchel and co.
The millions that their previous owner invested in the squad seems to be paying because Chelsea continues to be a top club with quality players. Timo Werner is back on the attack and along with Kante and Silva, Chelsea continues to be the team that is backed well in all positions. So they could claim all three points when Arsenal came visiting.
However, it is the Premier League that we are talking about and it is unpredictable. Anything can happen in the gap of 90 minutes and it is better to be prepared for all that you might see.
Chelsea vs Arsenal: Head-to-Head
As a big fixture, Chelsea and Arsenal have put on a show for us and have done it through 59 games in the Premier League. While Arsenal takes the lead, it is a small gap that can be covered sooner rather than later.
| | | |
| --- | --- | --- |
| Teams | Chelsea | Arsenal |
| Total Wins | 20 | 22 |
| Home | 13 | 14 |
| Away | 7 | 8 |
As you can see the Gunners have taken the lead and it is one that was built with the help of legendary players and managers. On the other hand, Chelsea also have their own story to tell and have always seemed like a solid team that puts on a fight. So this fixture is certainly going to be exciting and if you want to shift gears and try out betting, you can rely on the services of BritainBet.
The Reverse Fixture
Arsenal vs Chelsea (0-2)
22nd August 2021
The reverse fixture at the Emirates Stadium was not a pleasant one for the Gunners as it was the start of the season and they were still discovering their form. So they had to sit back and watch Romelu Lukaku and Reece James score a goal each thanks to assists from Reece James and Mason Mount respectively.
Results from the Previous Season
Not qualifying for European football was one of the biggest worries for the Gunners in the previous season. And if they continue going in their current form, they might see the same picture by the end of the current season. Chelsea, on the other hand, had a great season as they went on to win the Champions League and finished fourth in the Premier League. 
Arsenal vs Chelsea (3-1)
26th December 2020
It was a good way to start this London rivalry for the Gunners as they sealed three points and beat Chelsea. The result ended up being crucial for their London rivalry rather than their hopes to see European football. 
Chelsea vs Arsenal (0-1)
12th May 2021
Chelsea couldn't beat Arsenal in the 2019-2021 season of the Premier League. The Gunners had their plan ready and ended up taking away all six points from their London rival.