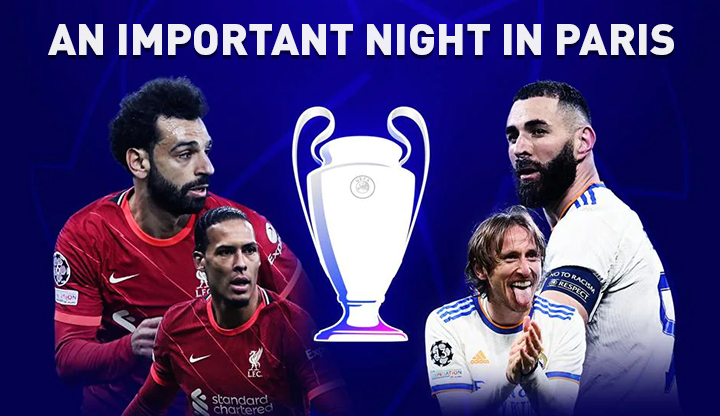 It's the final and one of the most important games of the footballing season. We are talking about the UEFA Champions League finals which will be between England's Liverpool and Spain's Real Madrid.
Two juggernauts of football are set to go against each other while fans, neutrals and everyone involved will be keeping their fingers crossed. So let's go through a small preview and understand what we can expect from this special fixture.
When and where are the finals taking place?
The UEFA Champions League finals between Liverpool and Real Madrid will take place at the Stade de France on the 29th of May 2022.
It's Klopp's relentless pressing vs Ancelotti's last-minute surprises
Liverpool fans wouldn't want to recall the last time they met Real Madrid in the Champions League. Salah getting injured and Liverpool missing out on the title were painful sights that nobody wants to see again, which is why Salah tweeting, 'We have a score to settle' will be trending.
While Liverpool are in fine form, it is never a good idea to disregard Madrid, who won't stop until the last minute. But how will Liverpool's pressing go against Madrid? Will it be successful? Or will Madrid end up conceding early?
Klopp's style of play does seem to play well in recent months and will do so against Madrid. And if it all goes according to plan, we can see Liverpool scoring goals mainly because Madrid has not been the best at defending.
However, Liverpool's high line of defence and offside trap may not work wonders against Madrid's forward attack. We are talking about the likes of Benzema, Vini Jr and the midfield powerhouse called Luka Modric.
If these players are in form, Liverpool will have a tough time preventing their runs and passes. So people involved with this fixture, including the ones involved in football betting will be confused about this particular outcome.
Both Klopp and Ancelotti are certainly going to name a strong bench because we are bound to see a few tired legs as the 90-minute game comes to a close. Liverpool's pace, intensity and attack will take a hit and Klopp will have to make substitutions because Madrid are not going to give up.
As experts in the league, Madrid have everything needed to win it and might even do so. But it is not going to be easy, which is why this fixture is going to be an interesting watch. There are no number of predictions that make things right because the Champions League has always produced the unthinkable.
It is the tournament that brings in something that you least expected and will do so in extraordinary form. You will never see what is coming but will certainly see a team in tears after the final whistle. Reaching the finals of this prestigious tournament is not easy, which is why players will feel the heat when they are made to return with nothing.
With Liverpool failing to win the league, all their attention will be on the Champions League trophy. They will have to win it. Having played in such form throughout the season, it will be painful to end it with only the Carabao Cup and the FA Cup. However, the road ahead is Madrid and they understand the magnitude of the task more than anyone else.
Liverpool vs Real Madrid: Head-to-Head
Liverpool and Madrid have gifted the footballing world with some of the most entertaining games of all time. And in all likelihood, the game in Paris is not going to be any different. So if you are looking forward to that one and want to be a part of it via betting or predictions, you can rely on the services of BritainBet.
| | | |
| --- | --- | --- |
| Teams | Liverpool | Real Madrid |
| Wins | 3 | 4 |
| Goals | 8 | 10 |
| CL Titles | 6 | 13 |
| Top Goalscorers (all-time) | Mohamed Salah | Cristiano Ronaldo |