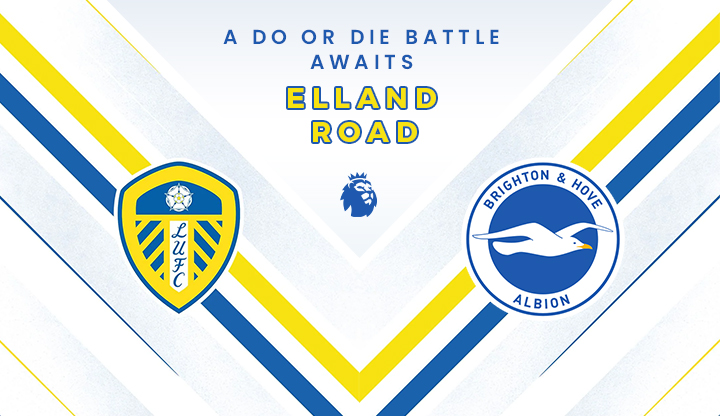 Just like how the race for the top four is going to go down to the wire, so is the race to stay in the Premier League. And there are three teams awaiting the signal, they are Burnley, Everton and Leeds United.
All three of these clubs find themselves in the relegation battle and are yet to make it certain that they will stay in the Premier League. With one spot in the battle lying vacant, we are yet to see which one of these clubs will head to the second division of English football.
We are nearing the end with matchday 37 of 38
Leeds United have two games to save themselves and it is time to add points. Brighton, on the other hand, aren't really playing for anything because they are not in the relegation zone nor in the race for European football.
Due to that, people will be looking at this fixture as a must-win for Leeds. Moreover, matchday 37 of 38 is also bringing in other fixtures such as West Ham vs City, Newcastle vs Arsenal and more.
However, the focus will be on the Yorkshire club and if you want to be a part of the mix, you need to rely on the services of BritainBet.
When and where is this fixture taking place?
For the unversed, Leeds United vs Brighton, as the title mentioned, will be taking place at Elland Road on the 15th of May.
Mere quotes aren't going to help Jesse Marsch
When Marcelo Bielsa was sacked, the fanbase was divided. Some who were concerned about the number of goals that they have conceded believed it was the right decision and others just believed that the great Argentian needed more time.
And after a couple of fixtures under Marsch, the fanbase looked united. They kept winning, kept a few clean sheets and scored goals against teams that are not exactly known as the top six.
However, once the fixture started getting tough, things took a whole different turn and thanks to results elsewhere, Leeds are back in the relegation zone. Apart from conceding goals and not scoring any, Leeds are also setting other embarrassing records.
They have received the most number of yellow cards and have consecutively received two red cards in under 30 minutes. It all seems like Marsch's quotes aren't really been read by the team, who are turning out to be quite violent.
Thanks to that, memes are also in the corner because that is what the internet is known for.
'Forget about winning games, Leeds can't even keep 10 men on the field'.
Memes such as these are all over the internet and also point to worrying times at Elland Road. Marsch's football seems to have taken out the gun-ho approach adopted by Bielsa and some are already pointing fingers at it.
Brighton, on the other hand, are fresh out from beating Manchester United and won't be doing Leeds any favours. While Graham Potters' team did not carry the momentum that they initially had, they will be entering Elland Road on the back of two back-to-back wins, which certainly should be worrying, at least for Leeds.
With players suspended and injured, Marsch has to dig out some of his tactics and help the team march ahead. Their inferior goal difference is another worry and every forward opponent will understand that they are playing against a defence that leaks goals.
Due to all of that, Leeds vs Brighton, at least for some, will seem like a final. A final to decide the status of Leeds United for the next season, although things could also change elsewhere and in the final game of the season.
So everyone, from the ones involved with football betting to the Leeds fans in general, will be looking forward to this game.
Leeds United vs Brighton: Head-to-Head
Unfortunately, Leeds and Brighton haven't given us many games to look at a head-to-head record and draw a comparison. Leeds United's painful absence from the Premier League has meant that they have only faced Brighton on 3 occasions and one of them was a draw.
| | | |
| --- | --- | --- |
| Teams | Leeds United | Brighton |
| Total Wins | 0 | 2 |
| Home | 0 | 1 |
| Away | 0 | 1 |
As you can see, Brighton got the better of Leeds, barring the reverse fixture, where the game ended as a draw. Graham Potter understood Bielsa ball and made all the right changes to ensure that the great Argentine's man-to-man marking system failed to work against his team.
The Reverse Fixture
The reverse fixture was more or less a dull game, not the type of fixtures that you would get to see under Bielsa. However, it was a clean sheet for Leeds, especially for an away game and that was something that you also did not get to see a lot under Bielsa. 
Brighton vs Leeds United (0-0)
27th Nov 2021
On the evening of the 27th, both Brighton and Leeds played out a goalless draw, having shared the same number of shots on target. In terms of possession, Brighton gained a slight upper hand and did seem like a team that was going to win.
However, that was not the case and both teams went home with a single point in hand.
Results from the previous season
Leeds United's return to the Premier League was an exciting time for Leeds' fans and also for the Premier League in general. Fans of football were given some of the best games of all time because Bielsa ball was a sensation at the time. While their second season did not offer much, their first was a special one, although they failed to win against Brighton. 
Leeds United vs Brighton (0-1)
16th January 2021
Elland Road was not pleased to see their team end up on the losing side, although compared to the results in 2022, the crowd should be glad that they only conceded one goal.
 Brighton vs Leeds United (2-0)
1st May 2021
When it came to the reverse fixture, Leeds' did not learn their lesson and ended up conceding another goal as Brighton once again took all three points.